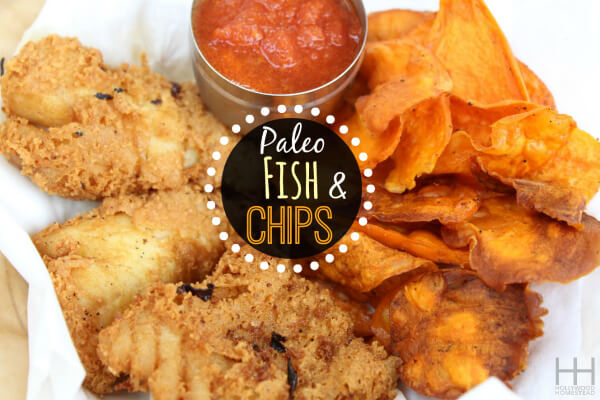 As some of you know the hubby, Eric, is from Seattle.  One of the things he gets pouty about is not being able to order fish and chips when we're out and about because really, they're usually a hot mess of gluten, and soybean, peanut or canola oil.
So he set out to recreate a paleo version of fish and chips that is of course gluten and grain free!  And it's simply delicious.
Paleo Fish and Chips
What you will need:
Batter:
Directions for fish:
Combine almond flour, eggs, sea salt and coconut milk in a food processor or blender.
Mix well.
Cut cod into thin strips.
Heat coconut oil on the stove.
Batter the cod and fry until golden brown.
Enjoy!
Crispy sweet potato chips: (see instructions here)
What comfort foods do you miss since cleaning up your diet?
The following two tabs change content below.
Sylvie McCracken is a former celebrity assistant in Hollywood turned full time entrepreneur currently living in Ashland, Oregon with her kids. She writes about treating and preventing health conditions with real food and natural remedies, as well as anything else she feels like writing about because she's a rebel like that. ? he also mentors health professionals turned entrepreneurs on her other site, SylvieMcCracken.com
Latest posts by Sylvie McCracken (see all)