Fast, Safe and Natural Breakthrough
Gelatin Secret Can Give You the Relief You Need From Digestive Disorders
Proven Breakthrough Used By Thousands of Men and Women!
Do you suffer from:
Multiple allergies
Food sensitivities
Joint and mobility pain
Chronic abdominal pain
Abdominal tenderness
Painful bowel movements
Acne and blemishes
Dull and fragile hair
Tooth decay
Brittle nails
Stomach cramps
Hormones imbalanced
Out of control appetite
Rollercoaster weight gain
Stress-induced insomnia
Wrinkles and stretch marks
Bloating and constipation
Anxiety and fatigue
Truth is, you're not alone. A recent study showed that over 62 million Americans suffer each year from digestive and gut problems. All of which left unattended can lead to one or more of the symptoms above. Fact is, these common health problems can turn deadly fast. It's frustrating, but true. But there is an all-natural solution.
Here's How The Gelatin Secret May Solve All Of Your Digestive and Gut Problems
For centuries it has widely been known that gelatin has many "natural healing powers". Ordinary gelatin, while known to reverse inflammation, soothe joint pain, boost energy and help damaged skin, hair, and nails has many other benefits. Problem is few people know ALL of the amazing benefits, or how they can quickly, cheaply and easily include this super-food into their daily diet through simple and delicious home recipes or convenient all-natural powdered solutions. Is it any wonder then why so many people turn to expensive and often dangerous pharmaceutical drugs as well as over the counter alternatives to alleviate and combat symptoms that have caused more than 104.7 million ambulatory care visits and 20 million surgical procedures.
But now imagine for a moment:
No longer being reliant on antihistamines
No longer needing to take anti-inflammatories like NSAIDS
No longer shelling out for costly face wash and dubious creams
No longer hearing the sound of the drill every time you visit the dentist
No longer snack binging and experiencing blood sugar crashes in the afternoon or evening
No longer going on yo-yo diets, popping fistfuls of pills or swallowing drinks that make you even more hungry
No longer being slave to anxiety pills, reflux meds or sleep aids
How much would this be worth to you? Now suppose you could sit down, read a simple eBook, follow the time-tested advice and try out a few of its proven recipes, and then discover your body, beauty and life changing. Sound too good to be true? Well, it isn't if you have the right advice, know the symptoms, understand how your body works, and what foods you need to avoid and consume. You see, food is medicine. What you put into your body affects how you feel. Consume the right food, and you will feel as if you are soaring through the clouds. Consume the wrong food and you will feel as if you are sinking in quick sand. Think about it. But first…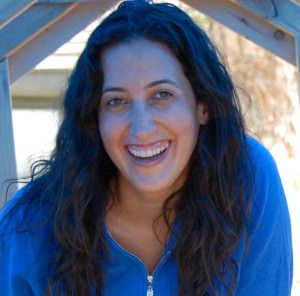 Who Am I And Why Should You Listen
By now you might be asking yourself, why you should listen to me and what makes me an authority on helping men and women repair and restore their health? Good question! Here's the answer. My name is Sylvie McCracken. Besides being an ordinary mom with 3 kids, holding a full time career as a celebrity personal assistant, I'm also a Paleo enthusiast, blogger and the author of the hugely successful ebook, The Paleo Survival Guide. This eBook alone has helped thousands of men and women positively change their health. In fact the same insights and lifestyle changes found inside it are the reasons why my husband and I were able to lose over 60lbs each. However, the real transformation occurred once I learned about nutrient density and incorporating gelatin into my diet. After an exhaustive search, trial and error, and spending countless hours wading through information on gelatin, I quickly discovered what does and doesn't work for improving bone density, remineralizing teeth, infusing shine back into hair, radiance into skin, boosting collagen in joints and more. And believe me there is a lot of inaccurate information being shared online, and while it might seem harmless, it can actually place you in harm's way. I want to help you avoid that. That's why I created the most comprehensive eBook on Gelatin, its benefits, its usage, and simple ways to include it in your diet. I've gone through all the hard work of testing it out and sharing all the essential facts, recipes and insights that you could ever need, so you don't have to learn by trial and error.
Introducing: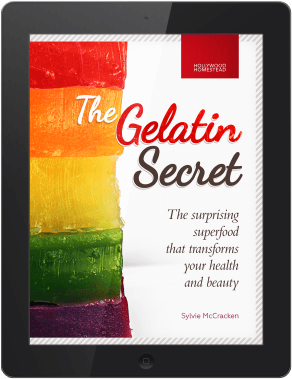 The Gelatin Secret: The Surprising Superfood That Transforms Your Health and Beauty
This revolutionary eBook reveals what you MUST know about gelatin and its powerful ability to transform your health and beauty —naturally! I've turned to the proven gelatin secrets and recipes that my husband and I used to lose over 60lbs each in the very first year of embracing a real foods diet. I've distilled the essential facts that you need to know down into an easy practical eBook that will help anyone turn the tide on all manner of health problems. What you'll find revealed in this one-of-a-kind eBook are all the simple, time-tested facts and recipes to know in order to turn bone, joint, dental, gut, brain, hair, skin, beauty and weight loss problems on their head.
So whether you're looking for a way to:
Dramatically improve your skin, teeth, sleep, joints and bones
Discover how to fight osteoporosis, arthritis and autoimmune disorders
Or simply searching for a natural way to reverse food sensitive's
You will find 'The Gelatin Secret' will give you all the ancient secrets and recipes to see and feel incredible health results in the shortest time possible. In fact for many women and men, they have immediately seen a difference within a couple of weeks of daily consumption of bone broth and powdered gelatin. You'll be surprised at how quickly you will feel your digestive system improving, see your skin clearing up, fewer allergies and notice pain decreasing — all within a matter of weeks. Then you'll be astonished when in a few months your nails have become stronger, tooth decay has begun to reverse and those bouts of hunger vanish. I know it sounds almost too good to be true, but that's how powerful gelatin is. Literally in a few months you could be experiencing the benefits of your gut healing, your bone and joints becoming stronger and allergies slowly disappearing.

Just take a peek at what's inside this revolutionary eBook: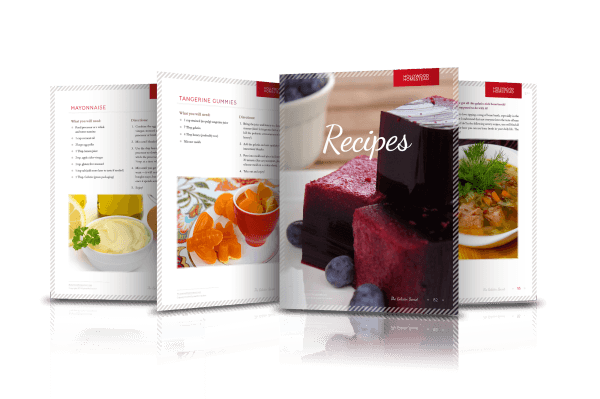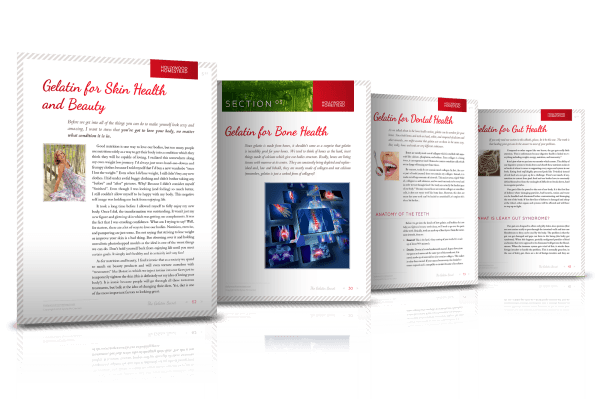 Here are the essential elements you'll learn about in the eBook:
About the author
Real food success stories
Introduction
Gelatin for bone health
Gelatin for joint health
Gelatin for gut health
Gelatin for weight loss
Gelatin for skin health and beauty
Gelatin for dental health
Guide to making gelatin-rich bone broth
Side dishes
Soups
Condiments and sauces
Jello recipes
Gummies
Dairy free ice creams
Dairy free smoothies
Dairy free puddings and custard
Marshmallows
And much more

Here's just a sample of what you'll discover:
✓ The truth behind this ancient super-food 'Gelatin'
✓ Simple ways to balance — even combat your stress levels
✓ The most effective way to clobber joint pain for good
✓ The early signs of digestive and gut disorders, the actual symptoms that accompany it and quick ways to reverse bloating and damage
✓ Breakthrough solutions for creating gelatin rich bone broth and my fast and simple ways to sneak it into recipes effortlessly
✓ A natural supplement that can help you even if your doctor has prescribed pharmaceutical drugs
✓ How to squeeze the most out of Gelatin and three often overlooked ways to include it in your diet
✓ Sure-fire ways to choose Gelatin supplements if you don't want to try your hand at making gelatin powder from home
✓ The secret to looking years younger with smooth, soft skin that radiates health without using creams or face wash
✓ The number one reason why gelatin trumps calcium supplements for your bones
✓ Nature's amazing solution to combat health symptoms naturally if you're worried about a loved one
✓ How gelatin's effects on the brain can calm your nerves, cause you to sleep like a baby and think sharp as a tack all day long
✓ The one and only secret to lush thick hair without paying for expensive products in a salon
✓ The difference between the onset of leaky gut and just a bad case of diarrhea
✓ Real-life insights into how gelatin nourishes each part of your body and improves your health
✓ The surprising reasons why joint pain has little to do with aging and everything to do with your body suffering and unable to heal itself
✓ How gelatin could solve almost all problems caused by poor joints or bones
✓ Why a cheap, simple do-it-yourself bone broth is better than Botox and collagen creams for getting radiant, young looking skin
✓ How to quickly and easily lift your mood and nip depression in the bud using Gelatin
✓ What you need to know about healing a leaky gut and how this knowledge can lead to healing all areas of your body
✓ Startling facts about supermarket gelatin and what they don't want you to know
✓ The most delicious ways to incorporate gelatin into every meal
✓ Why you should NEVER consume these foods or drink if you want to change your condition
✓ How to see noticeable weight loss without enduring hours of grueling workouts or starving yourself
✓ The shocking reasons why all of your health problems can be traced back to your gut, and how gelatin can help supercharge your gut health
✓ The easiest and fastest way to integrate gelatin into your daily diet without effort or breaking the budget
And much, MUCH more… You'll be amazed at how simple (yet highly effective) The Gelatin Secret is. Look, don't take my word for it; my customers say it best…
The Gelatin Secret Is Proven To Work

"Sylvie's eBook The Gelatin Secret is an amazingly comprehensive resource with an impressive references list that even taught me a few new things about gelatin! The second half of the eBook is devoted to a wide range of both savory and sweet recipes, from bone broths, to side dishes, to homemade gummies, to ice creams. I couldn't have read this eBook at a more perfect time — I am on a protocol to heal leaky gut, and my doctor prescribed gelatin every day as part of my healing protocol. Reading this eBook has helped me to be enthusiastic about consuming daily gelatin and also given me so many great recipes to use so I never get bored. The Gelatin Secret is a must-read for anyone interested in improving digestive health!" Amanda Torres, M.S. ~ thecuriouscoconut.com

"This is definitely a must-have eBook for anyone on a traditional foods diet. Not only is this eBook absolutely beautiful, it's impeccably researched and intelligently written. To top it off, all the recipes look amazingly delicious and easy to make. The Gelatin Secret doesn't just rehash the same information found in most other paleo/primal inspired eBooks. It provides new information from what must have been hours upon hours of research. This is definitely a must-have eBook for anyone on a traditional foods diet." Pamela – gymfreefit.com

"Gelatin has become a bit of a buzzword, at least in the Paleo/Primal and Real Food communities and with good reason. This superfood can help with everything from digestion issues to hair and nail growth and strength and can be used in all sorts of recipes. The Gelatin Secret by Sylvie McCracken will help you understand just what Gelatin is and how it can help you and your loved ones improve your health, all while enjoying some fantastic recipes! This eBook is definitely one to check out!"Nazanin Kovacs – cinnamoneats.com
"I recommend this eBook to anyone looking to repair and maintain their health and for those wanting to embrace the value of traditional food sources "Upon opening "The Gelatin Secret," I was excited to get my hands on some new recipes and a few new ideas of how gelatin might be useful. I was both thrilled and in complete disbelief when I saw the sheer mass of new information in front of me. Being a member of the Paleo community and a "whole foodist," the health benefits of gelatin were a familiar territory. I've been making my own bone broth for quite some time and even homemade gummy snacks. But Sylvie McCracken takes the importance of gelatin (collagen) to an entirely new level. After reading all of the benefits and considering all of my friends' and family's ailments and symptoms, I see now where the traditional nutrition of gelatin is needed for both maintenance and repair of vital tissues. "The Gelatin Secret" truly holds a wealth of knowledge, not to mention beautiful recipes and several highly informative pictorials. I recommend this eBook to anyone looking to repair and maintain their health and for those wanting to embrace the value of traditional food sources". Jennifer – predominantlypaleo.com


Okay, so what's the bottom line then?
That's easy. You're probably already aware that most people don't fix their problems and health related issues until it's nearly too late, by then the cost to reverse the damage done can vary from thousands of dollars to dangerous surgery. But I urge you to not wait until it's too late. You also know researching this yourself, could cost you thousands of dollars as you are no-doubt going to find yourself testing out a lot of bogus products, and heading down roads that lead to dead ends and frustration. Alternatively you could consult with me at $150 an hour, and who knows realistically how many hours it would take to convey everything I've learned. But I'm not going to charge you anywhere near that amount.Your investment for receiving this life changing eBook is only $24.97 And because it's delivered digitally, you can download it instantly! Additionally you get…
A FULL 30 Days 100% Money Back Guarantee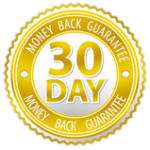 That means you have a full 30 days (1 month) to cycle – and recycle – through all the lifesaving information packed into the eBook. And if, in the unlikely event you don't think the insights in the eBook are worth at least 100 TIMES more than it costs… just let me know… and you will receive a full and immediate refund.

Are You Finally Ready To Repair and Restore Your Digestion and Gut For Good?
If your doctor has told you that you have a digestive or gut disorder or if you have any of the symptoms above, you don't have a moment to lose. Make the buying decision right now that can transform your health, beauty and life and provide an immediate solution to all your digestive disorder problems. Is there a better investment you can make than your health? Click the buy button below to order now for only $24.97. You will immediately be taken to a download area, where you will be able to instantly download the eBook on to your PC or MAC. You can be reading this amazing eBook in 60 seconds from now.

Don't you owe it to yourself and your loved ones to be healthy? Sincerely,


Sylvie McCracken Author of 'The Paleo Survival Guide'. P.S. Remember, even if you're simply curious, go ahead and order "The Gelatin Secret: The Surprising Super-food That Transforms Your Health and Beauty" today. You have a full 30 days to read this information and if you're not 100% satisfied that you have received "Life Transforming Information" and steps you can apply immediately to remedy multiple digestive and gut disorders then I'll refund your money back with no questions asked. What could be fairer? P.P.S.One more thing – it's very important! Seriously, don't leave it until it's too late. Far too many people are unnecessarily suffering and increasing their risk of surgery and even death by putting off what can be solved today — naturally! The only risk that you take is by not making a decision now to see how quickly gelatin can reverse the damage that has been done to your body. Take full advantage of my 30 day money back guarantee, benefit from all the answers and get educated about an amazing ancient super-food that is positively affecting millions. Click the link below to receive everything now: