How to Finally Eliminate your SIBO and IBS!
If You Are Sick And Tired Of… Popping a fistful of antibiotics every day and still not feeling better — discover the hidden reason why…
Constantly dashing off to the bathroom because you suffer from gas, bloating, constipation or diarrhea — there's a saner, healthier way to live…
Experiencing painful stomach cramps, abdominal pain, heartburn, nausea and digestive inflammation — gain soothing comfort…
Suffering from food sensitivities, headaches, joint pain, and fatigue or skin problems. — uncover nature's all-natural ally…
Getting the run around from doctors who dismiss your symptoms because they are not very knowledgeable on the subject — Find the solution you desperately want…
You don't have to put up with feeling lousy any longer. Feel better today — with an amazing "new SIBO eBook" that gives you all the answers to get your health back on track — so you can really live again!
"A wonderful, easy to read book by a fellow (former) SIBO sufferer. I was honored to be a part of her journey."

– Dr. Allison Siebecker, Oregon
Dear friend,
If you're sick and tired of suffering with SIBO or wrestling with the symptoms of IBS…
…and are as mad as heck at being quickly dismissed by doctors who appear to have very little knowledge about how to defeat your symptoms…
…the so-called miracle "antibiotics" for symptoms of SIBO…IBS and digestive problems that proves to be nothing more than a sham…
…not to mention the flash in the pan consultation sessions from a doctor who actually profits from your illness and leave you with the bulk of the work in between appointments…
…or the fact that you have to eliminate lots of healthy foods from your diet to reverse SIBO…
I hear you loud and clear. You see, I've been there.
Who Am I And Why I Can Help You
You might be asking yourself, why you should listen to me and what makes me an authority on helping men and women repair, prevent and even reverse SIBO?
Good question!
Here's the answer.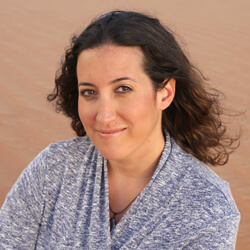 My name is Sylvie McCracken. Besides being an ordinary mom with 3 kids, holding a full time career as a CEO of two online businesses, I'm also a Paleo enthusiast, a blogger and the author of two hugely successful books, Paleo Made Easy: Getting your Family Started with the Optimal Healthy Lifestyle and The Gelatin Secret: The Surprising Superfood that Transforms Your Health and Beauty.
These two books alone have helped thousands of men and women positively change their health. In fact the same insights and lifestyle changes found inside them are the reasons why my husband and I were able to lose 60lbs each. However, the reason I set out to write a hold-you-by-the-hand eBook on SIBO was because I was diagnosed with it.
After being bounced from doctor to doctor and spending countless hours wading through articles online, I quickly discovered that most doctors have little knowledge about SIBO. In fact, one doctor rolled his eyes at me when I told him about my symptoms. The second one didn't even want to test for it. He simply wanted to write a prescription and send me on my way. And the third one… well… even though he was better than the others; after diagnosing me with a severest case of methane dominant SIBO, which is the hardest to treat —he never gave me a clear guide of how to stop the symptoms of SIBO and reverse it.
Sadly, today it seems that more doctors think you should just treat and manage your symptoms. No one appears to be searching for a way to reverse and prevent it.
Now I'm no doctor, and I always advise my readers to seek out medical advice. But having said that, I understand what it's like to personally suffer daily with a severe case of SIBO, and how GOOD it feels to finally eradicate it from your life.
What I'm about to share with you worked for me and many others. That's why I am confident it can work for you.
Now sure, you can go search online, but believe me there is a lot of inaccurate information being shared, and while it might seem harmless, it can actually place you in harm's way.
I want to help you avoid that.
That's why I created the most comprehensive eBook on SIBO, so you can navigate through the diagnosis, understand the treatment options, and ultimately give you a prevention strategy and delicious diet that works.
In over 146 color photo filled pages I've gone through all the hard work of testing it out and sharing all the essential facts, recipes and insights that you could ever need, so you don't have to learn by trial and error.
Introducing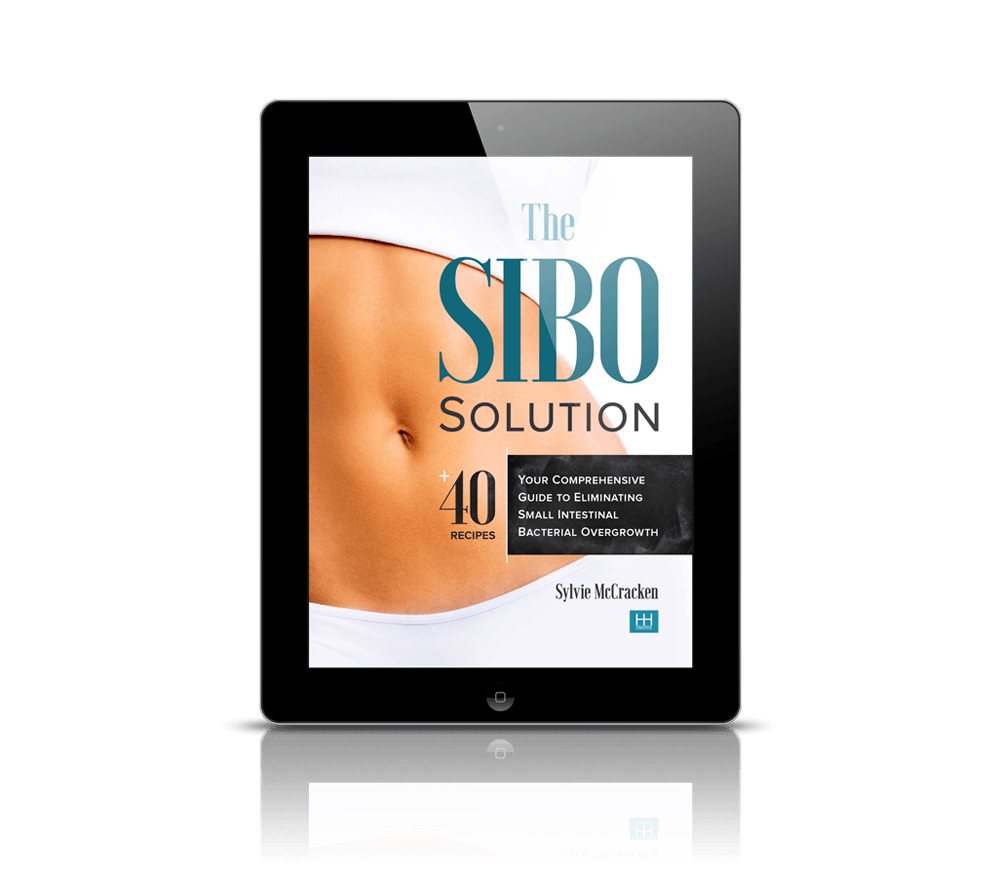 "Treating SIBO is a unique process that requires fine-tuning.

Sylvie personally battled a severe case of SIBO and kicked it to the curb and wants to help you do the same with this incredible guide she's put together.

The SIBO solution is a must have resource for those treating SIBO.

If you're seeking to understand the complexities of SIBO, eliminate it, and most importantly, make sure it never comes back, you need to get your hands on The SIBO Solution."

– Jordan Reasoner & Steve Wright, scdlifestyle.com
The SIBO Solution: Your Comprehensive Guide to Eliminating Small Intestinal Bacterial Overgrowth
Who said eliminating SIBO has to be HARD or COSTLY?
I've put together a comprehensive 146 page, proven life-changing eBook that can turn back the hands on the clock and reverse your painful symptoms of SIBO in a matter of a few months instead of years. And the most remarkable part of the whole method it shows you how to prevent future recurrences.
That means you can stomp out SIBO once-and-for all.
The Sibo Solution's unique and natural approach offers a straight up, no-nonsense guide to what SIBO is, what causes it, how to accurately diagnose it, treatment methods, and most importantly how to make sure it never comes back!
What you'll find revealed inside this one-of-a-kind book are all the simple, time-tested facts plus amazing SIBO recipes to know in order to promote healing inside your body and safeguard your immune system from another flare up.
Listen, I can't emphasize how valuable this recipe portion of the book is alone.
In fact it's the first book of its kind that combines not only Low Fodmap and SCD (specific carbohydrate diet) but also paleo/primal (aka real food with ingredients you can pronounce) to ensure healing and prevention with every bite. This means you will no longer be confused trying to come up with delicious recipes because of the restrictions in your diet.
"The SIBO solution is the resource for anyone struggling from small intestinal bacterial overgrowth. Sylvie has provided a thorough guide to help you navigate through the issues, symptoms, and options for understanding and treating the condition. Her holistic approach to dealing with SIBO sheds slights on the complex relationship between our gut and overall health. She provides practical solutions, tons of resources, and up-to-date research. Her personal story and honest portrayal of her own struggles makes her that "been there done that" supportive friend you need to discover the solutions you seek."

I highly recommend this book to anyone who has (or wonders if they might have) SIBO.

– Robin Konie, thankyourbody.com
Just imagine…
Knowing what steps to take to create hunger-filling breakfasts like Banana nut muffins, banana nut smoothies, green smoothies, breakfast bowls, leak & roasted red pepper frittata
Having the best how-to guide to creating main courses from beef, poultry and seafood, like beef carnitas with coconut flour tortillas, spaghetti & meatballs paleo style, quick zucchini noodles, beef & veggie soup and much more…
Gaining access to delicious desserts like whipped banana with walnut, honey meringue kiss, macaroon cookies, strawberry preserves, shortbread cookies and much more…
Being privy to my special side dishes, like honey ginger carrots, sautéed bok choy, roasted root vegetables, indian style cabbage or mock potato salad
And that doesn't even cover all the recipes or snacks.
Finally, I have removed all the guess-work about what you can or can't eat with a simple table of foods inside a PDF file that indicates, YES or NO.
It doesn't get much easier than having your own separate YES/NO PDF at your fingertips, so you can quickly print as many copies as you like. (For your fridge, and to take to the grocery store.)
Everything you find inside is fast, easy-to-make and good for your health.
"The SIBO Solution is a handy reference guide for treating SIBO. The book contains lots of great advice on diagnosis, treatment and prevention. The tasty dessert recipes made the SIBO diet liveable!"

– Sierra, United States
So whether you're searching for a way to:
Navigate through this often-confusing diagnosis and condition
Find natural treatment options that work ( even in severe cases)
Or simply searching for a prevention strategy and a proven diet
You will find 'THE SIBO SOLUTION' will give you all the valuable information and tools to see and feel incredible in the shortest time possible.
But let me be clear here.
Leading pharmaceutical companies don't want you to know about The SIBO Solution. That's because after reading what I have to say about repairing and reversing SIBO…
You will NEVER have to purchase the wrong supplements wondering if they are going to help, as I will show you which ones really do the job!
You will NEVER be stressed out about whether you are doing the right thing. I will keep you on track. You have my word!
You will NEVER have to spend HOURS researching online, wading through endless articles wondering if anything they are telling you has worked for others!
You will NEVER have to waste your time in doctors' offices, as once you start using this; your need to visit the doctor will be reduced dramatically!
So listen…
Just take a peek at what's inside this revolutionary book: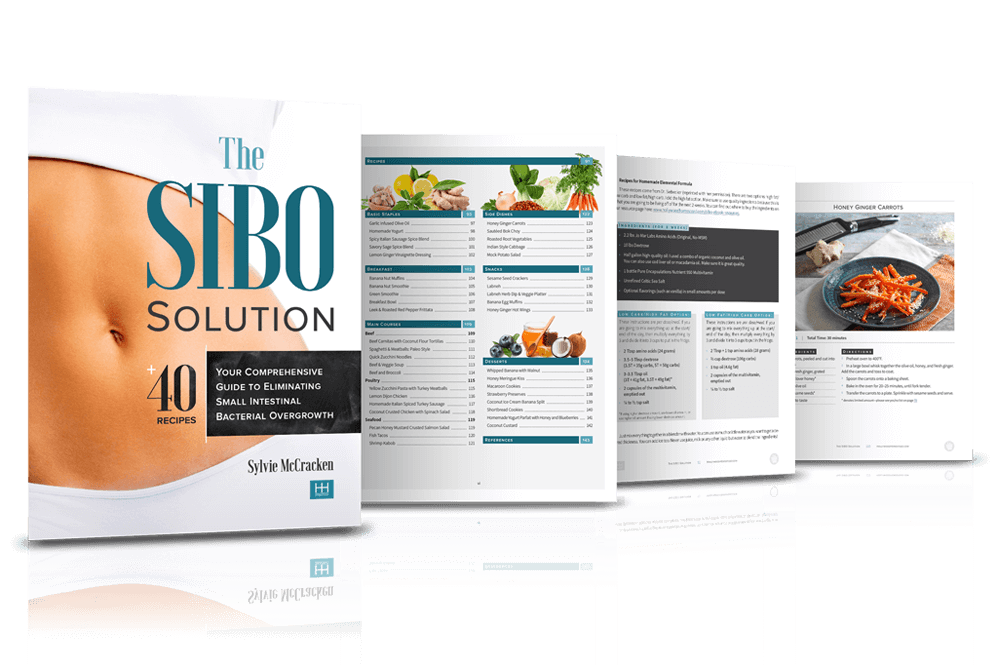 Here are the essential elements you'll learn about:
Introduction
What is SIBO?
Symptoms of SIBO
Causes of SIBO
Prevalence of SIBO
Associated diseases
How to diagnose SIBO
Breath tests for SIBO
Methane VS. Hydrogen SIBO
Treating SIBO
Antibiotics for SIBO
Herbal antibiotics for SIBO
Elemental diet
Improving Motility
Diet protocols for treating SIBO
The SIBO diet
Preventing recurrence
Healing the gut
Supplements
Parting thoughts
SIBO food lists
Recipes
Basic staples
Breakfast
Desserts
Main courses
Side dishes
Snacks
References
And much more! Plus when you order today, I will also include…
FREE BONUS: SIBO Detox Support Guide
This is a goldmine of insights, strategies and different gentle detoxes that I recommend to anyone suffering from SIBO or IBS.
If you want to reverse SIBO fast, you are going to want to detox your body during and after treatment.
Valued at $19, but free when you place your order today!
This really is the Swiss army knife for cleansing, promoting healing and waging war on SIBO.
It's packed with all the proven advice that I have used, and many others have.
The SIBO Solution Works!
"I absolutely love Sylvie's books and SIBO Solution is no different. Chock full of personal anecdotes and practical tips, this book is a must read for anyone suffering with major digestive stress or SIBO. Instead of this being a daunting or discouraging diagnosis, Sylvie gives us hope that there is a SIBO solution!"

She has a gift for distilling science and rigorous research into a language all of us can understand.

-Genevieve Pazdan, mamanatural.com
"I've found The SIBO Solution to be an imperative part of my healing process. I'm almost SIBO free and owe a lot of that to this book."

– Marissa, New York
Add My SIBO Diet To Your Daily Routine
Begin today to make the decision to use the simple SIBO diet found inside this eBook and see how by adding these proven and delicious recipes to your daily routine, how quickly they will correct your body. Do it regularly! Don't stop just because you feel better in a few weeks. Use them every day.
The SIBO diet will take care of every aspect of the fermentable and pro-inflammatory foods which feed on bacteria. The Paleo diet portion will clobber all of those unnatural foods which have wreaked havoc on your gut health and made living tough.
You will be amazed at how effective the SIBO Solution is.
3 Good Reasons Why You Should Take Action and Get The SIBO Solution Now
Look: if you have read this far, then you probably know whatever you're doing right now is not working or isn't making you feel the way you want to. I want you to be completely confident that when you buy SIBO Solution today that you are not going to be wasting your time, so here are 3 reasons why it makes sense to get it now.
SIBO Solution is backed by a full 30 days money back guarantee. This removes all risk from you and places it on me! Get it, read it, take notes and if you are not satisfied, email me and you don't even need to tell me why. I will give you a prompt refund within 2 business days.
It offers an affordable, immediate and natural solution to eliminating all of your existing symptoms rather than relying on costly SIBO specialist consultations or taking antibiotics for the rest of your life. Everything you need to know is found inside this 146 page eBook.
This quick and easy method has been proven to repair, reverse and prevent future recurrences and aid in the healing of your body in the shortest time possible. Don't suffer for years. You can end it within a matter of a few months from now.
So the only question that needs to be asked is…
Are You Finally Ready To Make Your SIBO Symptoms Vanish For Good?
"I am currently finding a doctor to order the testing I need to confirm the SIBO. I am following the diet until I do the breath test. I was so glad to find out about The SIBO Solution. I have struggled with IBS for 20 years now. It improved after finding out about my food allergies, but recently reared its ugly head again. Thank you for this valuable information."

– Shawn, United States
If your doctor has told you that you have SIBO or if you have any of the symptoms that come with IBS, you don't have a moment to lose.
Because Doctors have confirmed that 60% of IBS cases are caused by SIBO.
Shocking, but that's why it's vital that you don't waste time thinking about this. Take action now!
Place the order that can help you avoid and eliminate uncomfortable digestive issues and provide an immediate solution to your existing health problems.
Is there a better investment you can make than in your health?
You Can Be Absorbing These Amazing SIBO Reversal and Prevention Strategies In The Next 60 Seconds!
You can order this amazing SIBO reversal method right now and actually start discovering these strategies within 60 seconds… yes, that is right… WITHIN 60 SECONDS from the time of your order you can be exploring what I used to defeat SIBO, so that you can transform your body back to perfect health.
That's because I've taken the entire SIBO Solution eBook and made it so that you can download it, read it and benefit from it immediately.
Everything can be read and seen on your computer using FREE adobe reader.
So, if this is exactly what you want, here is what you should do next:
Ordering Is Safe, Easy, and Secure
Simply place your order right now and you can be reading in 60 seconds from now the entire method for eliminating SIBO.
The way it works is simple and fast.
"As a previous SIBO sufferer I was quite knowledgable about the whole routine. However, this book was the most comprehensive and up to date SIBO resource that I have found online. It was very helpful to see other people's breath test result & have them explained properly (the doctors never have time to go into so much detail). It was great to have so much info on the different protocols. I am now on my second round of elimination diet with herbal antibiotics & I cannot WAIT to get retested at the end of it."

– Sorana, Romania
Just click on the "Order Now" button below and you'll be taken to my 100% secure order page.
As soon as your order is processed (takes about 25 seconds), you'll be taken to the "Download Page" where you can instantly immerse yourself in the downloadable eBook.
This special SIBO method reveals the same techniques that have transformed my life and countless sufferers …and continues to be used by men and women every day.
And the best part is: You can return to your download page any time you like to access this information …as often as you like, and from any computer in the world!
Click here to order right away and start defeating SIBO today. You'll be thrilled with how fast, effective, and easy it is to eliminate your symptoms once you learn the right way to do it.
For a limited time, I've made the entire SIBO Solution eBook + FREE SIBO Detox Support guide eBook and FREE lifetime updates available so that you can read it over your PC, MAC or on any mobile device that supports PDF; all for only $24.97. That's a savings of $25 off the original price!
As new information comes out I will be sending updates to you for as long as you decide to stay subscribed (for FREE of course!)
"I haven't eradicated my SIBO yet. However, I found the book extremely helpful. Everything included in the book was wonderful information and the recipes and food lists are great! I unfortunately am healing the underlying causes of my SIBO which are big breasts and take more than diet and antimicrobials. However, I found such great advice in your book and have bought some of the products suggested. Thank you!"
I know from first hand, personal experience that you can eliminate SIBO with the help of The SIBO Solution and I'm so confident you'll love it that I'm offering the following guarantee:
Your Purchase Is Backed by My…
"Take-It-To-The-Bank" 100% Guarantee.
I want you to be as confident as I am, and other readers are. But just in case you have any lingering doubts whatsoever, I want to make it foolproof for you. You see, I completely guarantee your satisfaction. Not for 14 days. But for an entire 30 days! (That's a full 4 weeks.)
Let me be more specific. Here's my Lifetime Guarantee…
Order today and read everything, access and download everything…
If you're NOT completely convinced this SIBO eliminating package is worth the price your paid many times over, I want you to ask for your money back.
I'll refund you for the entire purchase amount you paid, on the spot.
Fair enough?
"Last year I was diagnosed with SIBO and received treatment with antibiotics. After the treatment I had a very severe allergic reaction to probiotics that the gastroenterologist prescribed. A clear indication of a very leaky gut. I purchased your book right after that. I read it and started making and consuming broth every week. I also bough the collagen hydrolysate and take it as often as I can remember. I just recently tested negative for leaky gut. Thank you for your hard work. The book is very comprehensive and fun. Love the recipes!
It's simple, just click on the order button. You can order it now immediately, even if it's 3 a.m. in the morning and you live anywhere in the world.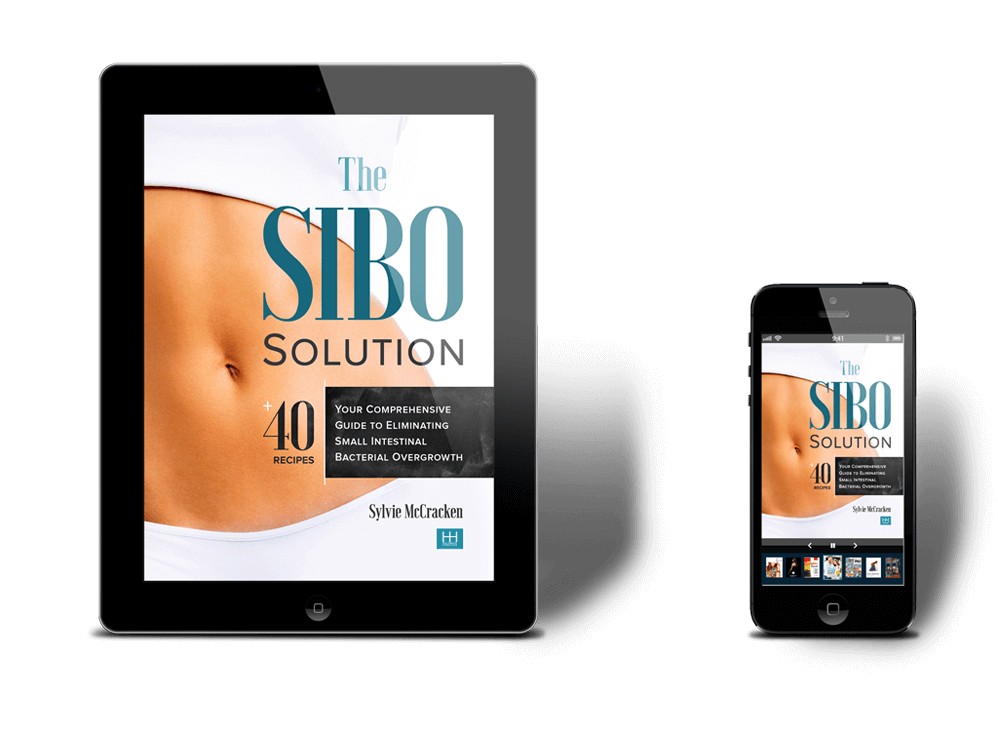 Now is the time to put an end to your SIBO symptoms for good.
It will help you finally get the vibrant health you deserve.
Go for it!
Sylvie McCracken
Author of 'Paleo Made Easy' and The Gelatin Secret
"I used the protocol outlined in the book and it worked beautifully. Having the knowledge that I could bypass the antibiotic protocol my doctor wanted to prescribe was priceless. Thank you SIBO Solution!"

– Linda, United States
P.S I know that if you've read this far you understand just how powerful this can be… and how by simply using some of the very simple, and natural techniques found inside you'll combat and prevent SIBO fast. And I'm sure you can imagine what it's going to be like when you use this product…
P.P.S Remember your order is completely RISK-FREE for an entire 30 days. Read, apply and see the results. If you aren't "seeing and feeling better within 1 month" simply contact me for a no questions asked refund. Take action now, you'll feel more confident than you've ever felt, knowing that you've finally dealt with your SIBO symptoms for good, and are FREE from the damage that SIBO has done to your body and your daily life.