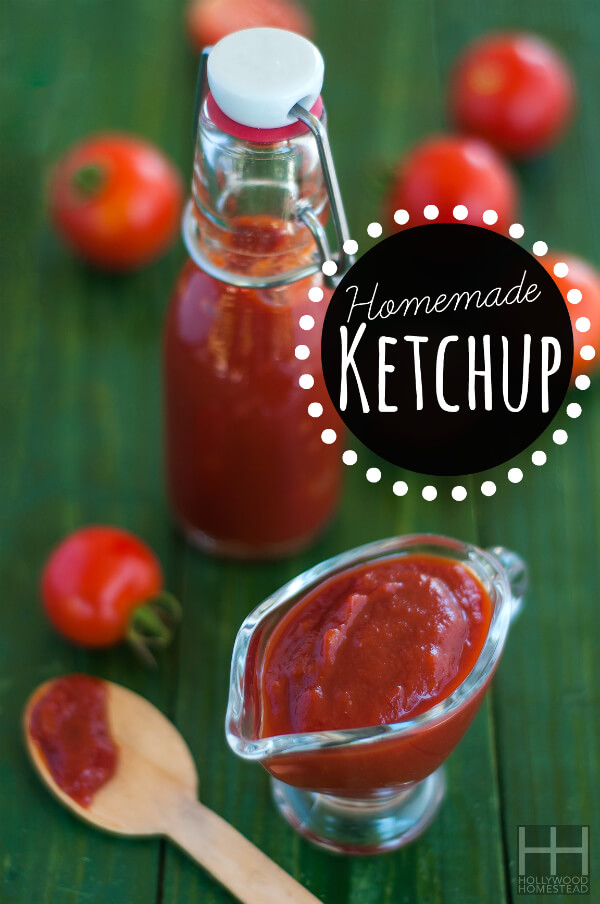 Have you looked at the ingredients in store bought ketchup? Even the organic ones are full of sugar.  I still buy the organic store bought ketchup in a pinch, if we're having a barbecue and don't have time to make our own and it's light years better than the popular mainstream brands that are full of GMOs and high fructose corn syrup but this homemade ketchup is even better since we use grade B organic maple syrup to sweeten it instead of refined white sugar.
The reason these organic brands are full of sugar is because they use the whole tomato (for expediency) and the tomato seeds are bitter.  To cut the bitterness they sweeten it up.  You can certainly make ketchup from tomatoes but this recipe is a little more realistic for our lifestyle right now since it saves a few time consuming steps by using tomato paste instead.
Try this healthy homemade ketchup you and your family will love!
Homemade Ketchup
Ingredients:
Directions:
Peel and mash the garlic
Combine all ingredients in the food processor and mix well
Enjoy!
This recipe will keep in the fridge for several weeks. You could also double a batch and freeze it where it will keep several months.
You could store in mason jars like these or use these cute little airtight bottles for dispensing ease.
Do you make homemade ketchup or other condiments?
The following two tabs change content below.
Sylvie McCracken is a former celebrity assistant in Hollywood turned full time entrepreneur currently living in Ashland, Oregon with her kids. She writes about treating and preventing health conditions with real food and natural remedies, as well as anything else she feels like writing about because she's a rebel like that. ? he also mentors health professionals turned entrepreneurs on her other site, SylvieMcCracken.com
Latest posts by Sylvie McCracken (see all)