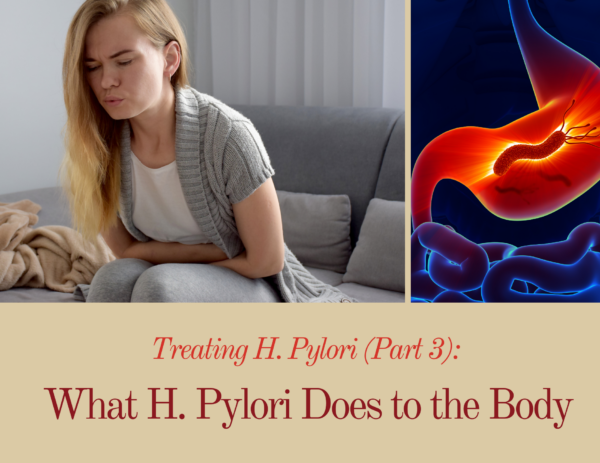 If you have been keeping up with our "Treating H. Pylori" series, you know that helicobacter pylori (also known as "H. Pylori") is the bacteria that causes stomach ulcers. And that bacteria is in half of the world's population! Not everyone who is infected with H. Pylori will get ulcers. Although researchers are not sure why this happens, they do know how the ulceration process occurs. Keep reading for more information on what H. Pylori does to the body.
(If you're not familiar with this series, catch up by heading over to Part 1: What Is H. Pylori?) 
How H. Pylori Enters the Body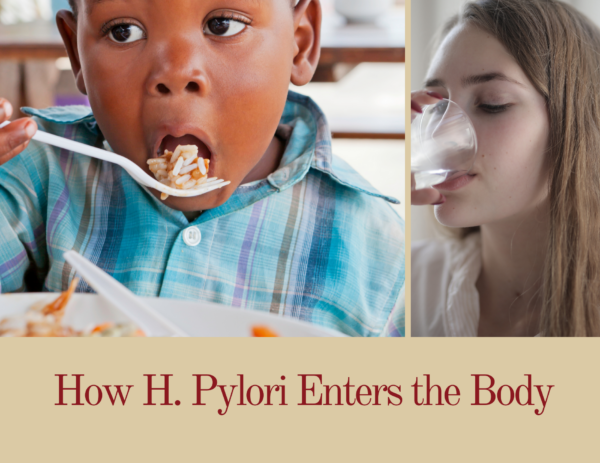 Before H. Pylori can cause any harm, it must enter the body. H. Pylori enters the body through contaminated water or food, contact with fecal matter, or even through swapping saliva. Researchers are not entirely sure how common it is to contract H. Pylori in these different ways. In fact, H. Pylori was only discovered 20 years ago!
(For more details, you can check out our latest blog post in this series: How H. Pylori is Contracted.)
Once it reaches the body, it heads straight to the stomach where it begins its attack of the stomach lining.
Surviving the Stomach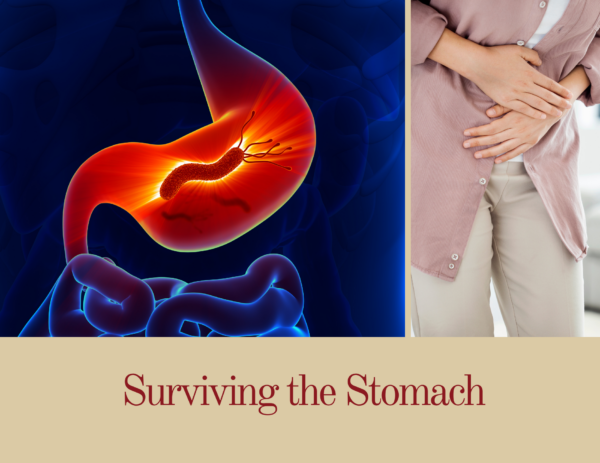 The breakthrough discoveries about H. Pylori were so important because they changed what medical professionals believed about the stomach. Stomach acid, which is used to digest food, is so harsh that it was thought to sterilize anything that made its way into the stomach. No outside bacteria could live there for long. But H. Pylori is the exception.
The reason H. Pylori can live in so many stomachs is an enzyme called urease. Urease allows the H. Pylori bacteria to convert urea to ammonia, a compound so basic that it neutralizes the acidity of the stomach. 
Attacking the Stomach Lining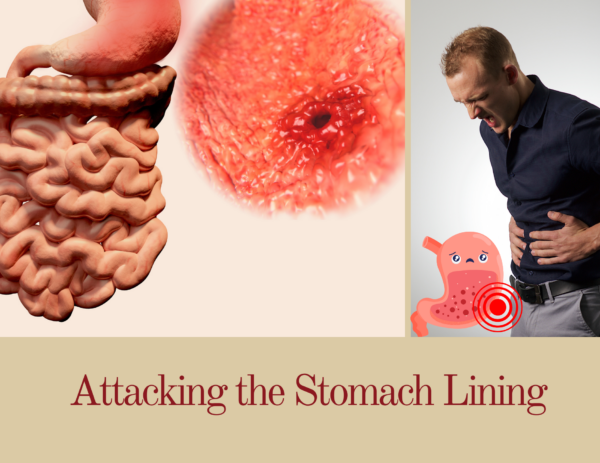 The stomach lining is crucial to digestion and gut health – it keeps the stomach acid that digests our food in its proper place. Toxins secreted by H. Pylori prevent the stomach lining from doing its job properly.
When H. Pylori reaches the stomach, it secretes VacA. VacA allows the H. Pylori bacteria to attach to the mucosal layer of the stomach and bind to receptors throughout that layer. When this happens, the stomach lining sends out a distress signal. Inflammatory cytokines are immediately produced. (Inflammatory signals go off when our body is in many forms of distress!) Further binding to the mitochondria of cells in this region can cause apoptosis, or cellular death. 
Cell death and inflammation causes further cell death and inflammation. At some point, if this process is not put to a halt, stomach acid leaks through the stomach lining and ulcers are formed. The pain that you feel in your stomach during the formation of ulcers is caused by all this inflammation.
Research has uncovered that H. Pylori is the main culprit behind 80% of gastric (stomach) ulcers and 90% of duodenal ulcers. (The duodenum is the first part of the small intestines that is attached to the stomach.) Tumors and long-term use of anti-inflammatory drugs like aspirin may also be the culprit behind stomach ulcers. 
Symptoms of H. Pylori Infection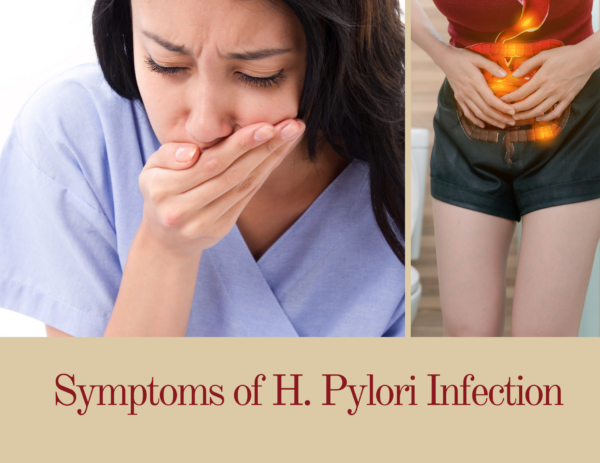 Once H. Pylori attacks the stomach lining, what do you experience?
Stomachaches
Burning pain
Nausea
Loss of appetite
Bloating
Weight loss
Burping
Often, these symptoms are confused with heartburn. But know that the symptoms of a helicobacter pylori infection tend to intensify when the stomach is empty. 
When these symptoms go untreated and H. Pylori remains in the stomach, a person may develop ulcers. Even worse, their risk for stomach cancer increases. The World Health Organization lists H. Pylori as a group 1 carcinogen. 
How to Prevent H. Pylori From Causing Ulcers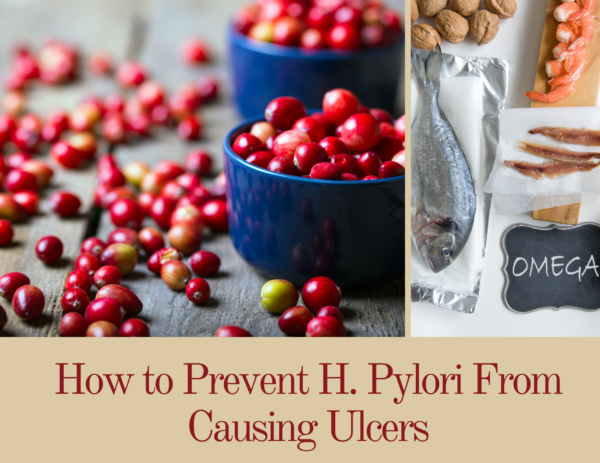 Even if you have contracted H. Pylori, you can treat this bacteria and prevent ulcers or further damage. How? Diet. Cranberries can prevent the bacteria from attaching to, and attacking, the stomach lining. Green tea can reduce inflammation. The right fatty acids can reduce inflammation. 
Find a full list of foods to eat (and to avoid) if you have a H. Pylori infection here. A proper diet can not only prevent symptoms from worsening, but also kill the bacteria entirely and create a more balanced, protected environment in the stomach. 
The Quickest, Natural Way to Stop H. Pylori In the Body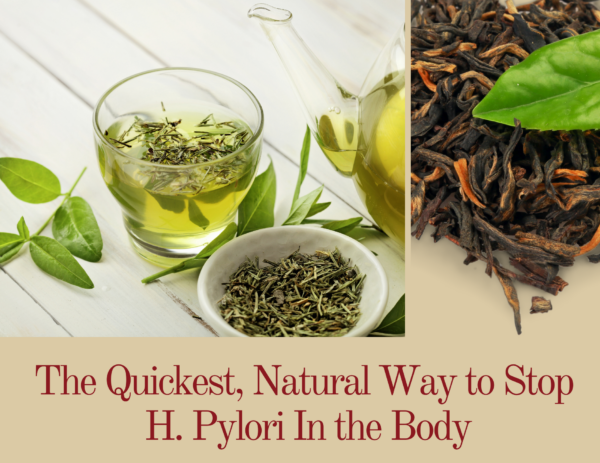 The best way to prevent H. Pylori from attacking your stomach is to eliminate it entirely. You can do that easily and naturally with matula tea.
One cup of matula tea in the morning and one cup at night was all I needed to eliminate H. Pylori for good. You can learn more about how this tea works to fight against H. Pylori here. 
***You can buy Matula Tea here.***
Did you know how H. Pylori affects the body? Have you experienced an H. Pylori infection? Let me know below!
The following two tabs change content below.
Sylvie McCracken is a former celebrity assistant in Hollywood turned full time entrepreneur currently living in Ashland, Oregon with her kids. She writes about treating and preventing health conditions with real food and natural remedies, as well as anything else she feels like writing about because she's a rebel like that. ? he also mentors health professionals turned entrepreneurs on her other site, SylvieMcCracken.com
Latest posts by Sylvie McCracken (see all)