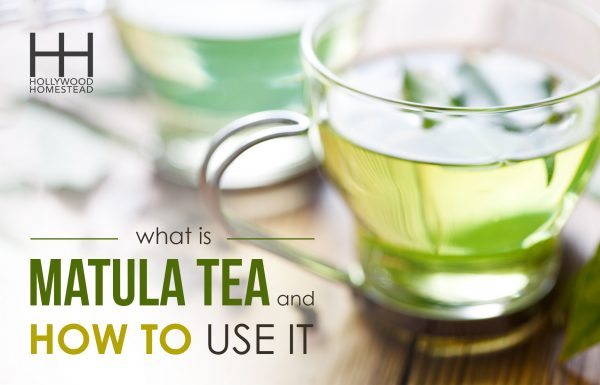 For decades people with ulcers, heartburn, and GERD have been told that their problems were all due to stress.  Now we know that the real culprit is a bacteria called helicobacter pylori. If you still don't know about this, then I suggest you read this post about What Is H. Pylori and How to Treat It.
I too am one of the millions of people who suffered years before finding out that I had an h. pylori infection.
Instead of destroying gut flora by taking antibiotics to deal with the h. pylori infection, I decided to tackle it the natural way.  And I had success using matula tea!
Matula tea by far isn't the only natural solution for treating h. pylori (mastic gum is another option).  However, since it is the one that worked for me, I am going to share my insight here.
UPDATE: Good news! There is now an h. pylori test that you can order directly without a doctor's order! While I'm a HUGE fan of having a doctor's guidance, I understand the need to know whether you have h. pylori or not before you invest in a practitioner.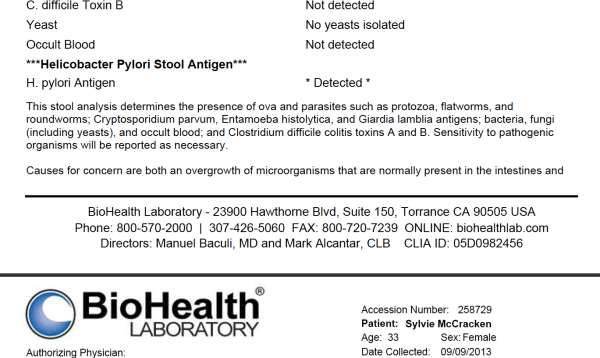 What Is Matula Tea?
Matula tea is actually a blend of many different plants.  As talked about here in the journal Clinical Microbiology, plants contain multiple types of compounds.  These compounds often work together to fight infection and can produce better results than traditional antibiotics.
In addition to killing h. pylori bacteria, the ingredients in matula tea:
Help your stomach lining heal by regulating gastric acid production.
Regulate gastric acid production.
Help rebuild your stomach mucus lining so h. pylori can't reinfect.
Boosts immune health.
Some of the ingredients in matula tea also have other benefits, such as regulating blood sugar levels, regulating blood pressure, and helping weight loss.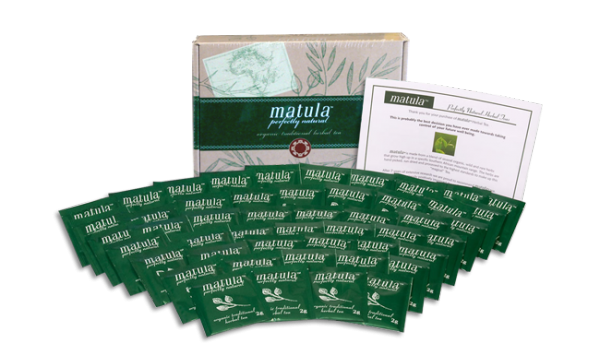 What Are the Ingredients of Matula Tea?
Here is a list of the ingredients found in matula tea and what their benefits are.  Note that matula tea does not contain any additives, is made from wild herbs, and is non-GMO.
Oleo Europaea and Oleo Africana

: Better known as the olive tree, the leaves of the plant are used. Olive leaves contain a nutrient called

Oleuropein which kills bacteria and boosts immunity.  Olive leaves also are great for blood health and brain function. 
Artemesia Afra: The leaf and stem of this plant are used. It is very potent at killing parasites as well as bacteria. Studies have found it effective in treating SIBO, Crohn's disease, and other digestive ailments. (Source)
Clycyrrhiza Glabra: You probably know this one better as licorice. In addition to its many other health benefits, licorice is well-documented to fight ulcers and boost immunity. (Source)

Cyclopia Intermedia: This African plant has been studied for its high polyphenol amounts which are reported to be soothing and great at healing coughs. The plant is also a strong antibacterial agent and the antioxidants boost immunity. (Source 1)

Aspalathus Liniar: This is the scientific name for rooibos tea. This plant hasn't been as well-studied as some of the other matula tea ingredients. However, it does have high levels of antioxidants and is used by locals to fight tooth decay and is thought to slow the aging process.  It is also commonly used for treating diarrhea and vomiting, and studies show it has antibacterial activity. (Source 1)

Psidium Guajave: The leaves and fruit of this plant (guava) are used in matula tea. Guava is best known for helping to regulate weight and fight diabetes.  However, it also has been studied and shown promise for fighting digestive ailments.  It is an antioxidant, antidiarrheal, antimutagenic, antibacterial, and anti-inflammatory agent. (Source 1, 2)
Syzygium Cordathus: This is an evergreen tree that grows in Africa where it is known to cure stomach ailments and diarrhea. 
Tulbachia Violceae (wild garlic): Wild garlic is probably the best-known and one of the most-studied natural antibiotics. It consists of numerous compounds including polyphenols and sulfur compounds. In addition to killing h. pylori, wild garlic also is good for your blood pressure and blood sugar levels (Source 1, 2)
Studies on Matula Tea Efficacy
There has been only one in-vitro study on matula tea.  Considering that matula tea is a blend of ingredients and a commercial product, it isn't really surprising that few studies have been done.
Note that plenty of studies have been done on the individual ingredients of matula tea, including some studies on their efficacy of fighting h. pylori and bacterial infections.
In the one study which was conducted, matula tea had a 96% success rate in the eradication of h. pylori.  You can read more about the study here.
How to Use Matula Tea
My doctor advised me to order matula tea (you can buy it here). One case is enough for a 1-month treatment.
I went ahead and bought 1 box of matula tea each for my daughter, 1 for husband, and 1 box for my toddlers to split (their dose is halved) as a preventative mechanism.
Use Instructions:
Drink two cups of matula tea per day for 30 days
Take one of the cups at least 30 minutes before breakfast
Take the other cup of tea 1-2 hours after dinner at night
Always drink matula tea on an empty stomach!
Even if you feel better sooner, it is important that you continue drinking the tea for the full 30 day treatment period
I admit that I forgot to drink the matula tea once or twice, but I really tried to stay on top of it as much as possible.
***You can buy matula tea here***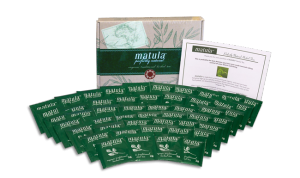 How Does Matula Tea Taste?
Luckily, the matula tea formula actually tastes quite pleasant.  It tastes a bit like unsweetened green tea.  My kids didn't exactly like it but they drank it when I put some raw honey into it (where to buy raw honey).
The Results?
Drinking Matula tea is literally all I did to cure my h. pylori. The proof is in the … ahem, lab test.  As you can see from the stool test below, I managed to cure myself of h. pylori.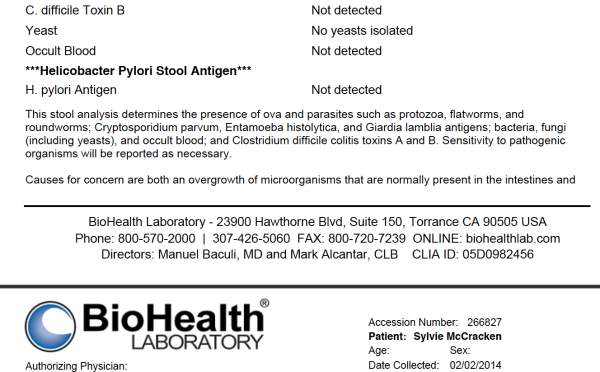 Should You Take Matula Tea for H. Pylori?
Of course you should talk to your doctor first before starting any treatment.  Unfortunately though, most conventional doctors will just recommend that you take antibiotics.  In addition to the issues with antibacterial resistance, there are plenty of reasons NOT to take antibiotics — like that they may cause gut flora dysbiosis, may cause IBS, and because herbal antibiotics may be more effective in fighting infections anyway.
Matula tea isn't exactly the cheapest option for treating h. pylori infections.  However, compared to the cost of antibiotics and the long-term damage they can cause, I found the price very well worth it (not to mention that matula tea actually worked for me).
You can buy matula tea here.  
Have you tried matula tea? If you have, I'd love to hear your experiences with it!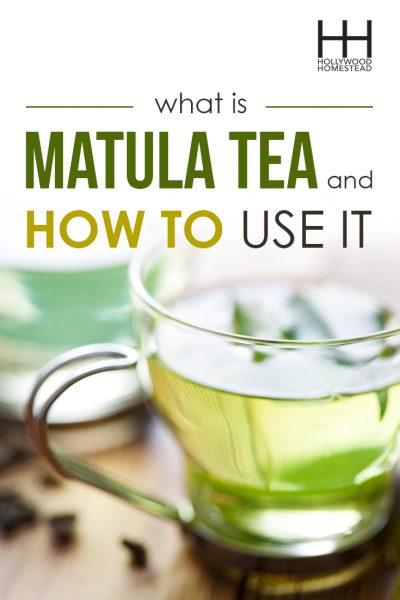 The following two tabs change content below.
Sylvie McCracken is a former celebrity assistant in Hollywood turned full time entrepreneur currently living in Ashland, Oregon with her kids. She writes about treating and preventing health conditions with real food and natural remedies, as well as anything else she feels like writing about because she's a rebel like that. ? he also mentors health professionals turned entrepreneurs on her other site, SylvieMcCracken.com
Latest posts by Sylvie McCracken (see all)