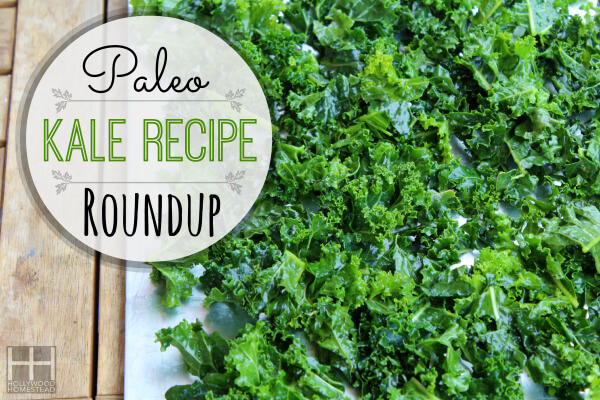 I absolutely love kale! As far as superfoods go, kale is definitely one of the best green veggies you can eat.  It is loaded with nutrients like vitamin K, manganese, calcium, iron, magnesium, copper, omega 3 fatty acids, and also has lots of fiber to boot too.  Compared to other greens like spinach, kale also has a low level of oxalic acid – a chemical which can interfere with mineral absorption.  So, you aren't just getting a mega boost of nutrients from kale, but your body is actually absorbing them well too.
Plus, I have a ton of it growing in my garden at all times.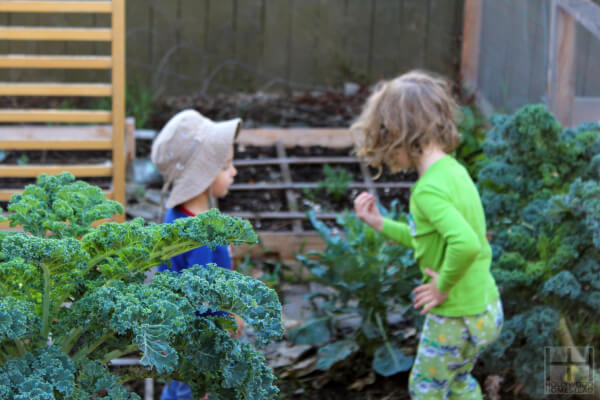 Hooray for kale!
Okay, I know what you are thinking: "Yes, I know I should be eating my greens, but I just can't think of any good recipes."  Well, no more excuses!  Here are some amazing paleo kale recipes from some of the best real food bloggers on the net.  There are even kale recipes which your kids will love (my kids' favorite is kale chips!).
Kale is one of the veggies I would definitely buy organic if you can (or grow it yourself). Kale, and all leafy greens are on "The Dirty Dozen" list which gets released by the Environmental Working Group each year to show which crops have the highest amounts of pesticides present.  If you do buy conventionally-grown kale, be sure that you do a good job of washing it.  Most pesticides aren't going to come off with water alone.  Instead, you've got to use a veggie wash solution to wash the kale.  There are a bunch of products you can buy, but you can also just use a solution of 50/50 plain white vinegar and water.  Let the kale soak in the solution for a few minutes and then rinse well with water.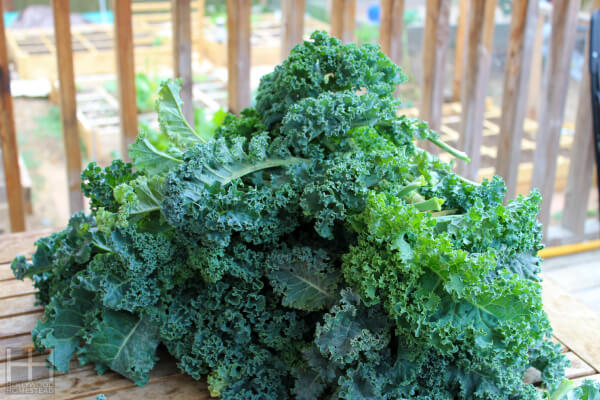 Paleo Kale Breakfast Recipes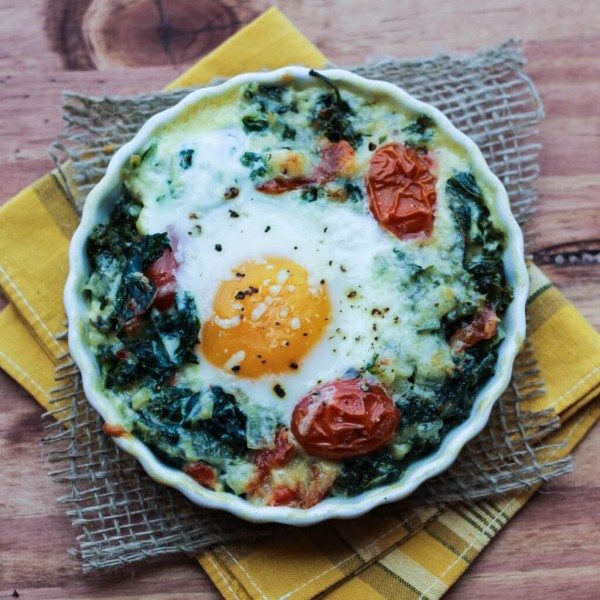 Creamy Kale Baked Eggs (with paleo option)  from Health Starts in a Kitchen
Kale Omelette from Economies of Kale
Paleo Kale Snack Recipes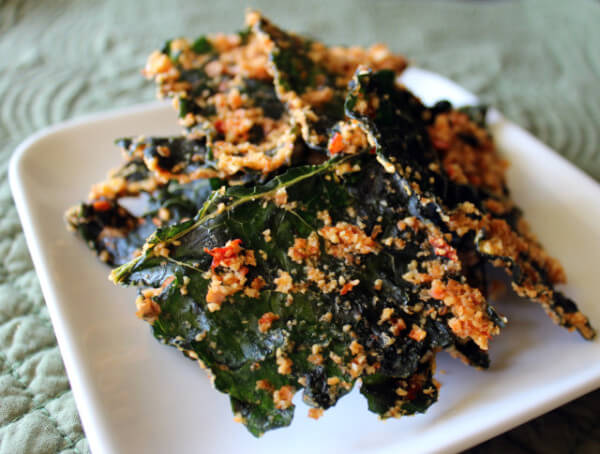 Organic Kale Chips – my own version
Sweet & Salty Kale Chips from Food Renegade
Nacho Kale Chips from Health Starts in a Kitchen
 Sweet &  Salty Kale Chips from Girl Meets Nourishment
Lemon and Sea Salt Kale Chips from The Organic Kitchen
Crispy Kale Chips with Lard from Real Food Whole Health
Nacho "Cheese" Kale Chips  from Delicious Obsessions
Savory Balsamic Kale Chips from Delicious Obsessions
Cheesy Garlic Kale Chips from How to Just About Anything
The Secret Homemade Kale Chips from Live Simply
Paleo Savory Recipes with Kale
Meatloaf Roll Spiraled with Greens from Fresh Bites Daily
Simple Kale Side Dish from Healing Cuisine by Elise
Sweet Potato Noodles with Kale Pesto by Gourmande in the Kitchen
Garlic Kale Soup with a Poached Egg from CaveGirl Cuisine
Paleo Diet Kale Salad Recipes

Simple Mixed Green Salad – my own recipe
Carrot-Kale Salad from Healing Cuisine by Elisemprove motility
Massage Your Kale Salad from Real Food RN
Mediterranean Kale Salad from Fresh Bites Daily
Kale Salad with Garden Tomatoes from Fresh Bites Daily
Raw Kale Salad With Creamy Almond Dressing from So Let's Hang Out
Sweet Kale Salad from the Humbled Homemaker
Paleo Kale Drink Recipes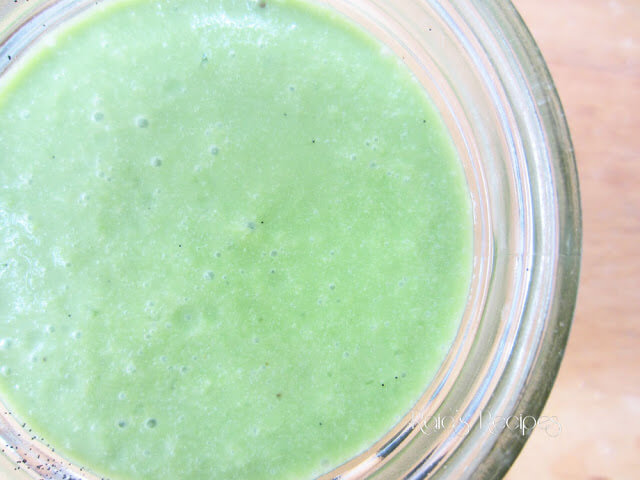 Spicy Sweet Kale Shake from Healing Cuisine by Elise
Want tips on getting your kids and spouse to eat kale, organ meat and other amazing superfoods?  You need the Paleo Survival Guide! Click Here to get your copy.
The following two tabs change content below.
Sylvie McCracken is a former celebrity assistant in Hollywood turned full time entrepreneur currently living in Ashland, Oregon with her kids. She writes about treating and preventing health conditions with real food and natural remedies, as well as anything else she feels like writing about because she's a rebel like that. ? he also mentors health professionals turned entrepreneurs on her other site, SylvieMcCracken.com
Latest posts by Sylvie McCracken (see all)