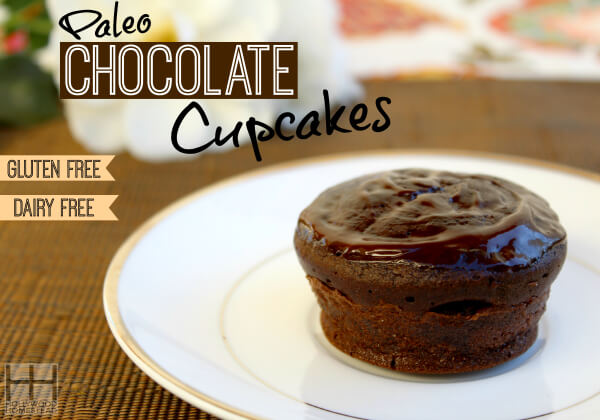 Sometimes you just need a chocolate cupcake, amiright?  Now, if you've been reading for a while you'll know I don't have paleo treat recipes very often.  It's not because I don't love 'em.  I love chocolate as much as the next girl but as someone with an addictive personality I know that when they make an appearance too often, they can get out of hand so I don't like having them around on the daily.  If I do get out of hand with the frequency of paleo treats I put myself on a 21 Day Sugar Detox to reset my cravings.   Works like a charm just by doing it once or twice a year.
As a mother of 3 paleo kiddos however, having cupcakes like these to bring to birthday parties, BBQs and whatnot can be a lifesaver.  One of my kids is severely gluten intolerant and having a gluten free cupcake that she can have when her friends are having one really helps her to not feel left out.   Our teenager with a sweet tooth loves them too!
When we first transitioned to paleo, having treats we could eat was incredibly helpful at staying on track during those first few difficult weeks.
Plus, they're delicious!
Paleo Chocolate Cupcakes (makes 12)
What you will need for the cupcakes:
What you will need for the frosting:
1 can full fat coconut milk (13.5 oz) (where to buy coconut milk)
2/3 cup chocolate chips
Directions for cupcakes:
Combine the chocolate chips and coconut oil in a pot on medium heat – stir continually until blended.
Let cool.
Separate the egg whites from the yolks and blend the whites until light and frothy.
Blend the yolks and pour slowly into the bowl with the whites while blending (I use a cuisinart smart stick).
Sift and add the remaining dry ingredients.
Mix well and pour (approx 1/4 cup each) into a muffin pan.
Bake at 350 degrees for 17 minutes.
Directions for frosting:
Combine ingredients over medium heat.
Mix well with a whisk.
Let cool.
Enjoy!
Looking for other paleo treats to have handy?  Check out this ebook, Indulge, by my friend Carol from Ditch the Wheat.   I love her chocolate brownies in particular.  She's so much better than I am at this whole baking gig!  (Learn more here)
 What are your favorite paleo treats?
The following two tabs change content below.
Sylvie McCracken is a former celebrity assistant in Hollywood turned full time entrepreneur currently living in Ashland, Oregon with her kids. She writes about treating and preventing health conditions with real food and natural remedies, as well as anything else she feels like writing about because she's a rebel like that. ? he also mentors health professionals turned entrepreneurs on her other site, SylvieMcCracken.com
Latest posts by Sylvie McCracken (see all)