Most paleo success stories are about unhealthy, overweight adults who fixed their lives up by switching to the paleo diet.  I've also shared my paleo success story and my husband Eric has written about his paleo journey.  I decided it was time we had a different take on going paleo.  So, I interviewed Natalie, my oldest daughter, 14 years old, about her experience with paleo…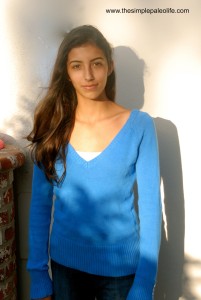 (photo by Selma Al-Faqih)
How long have you been eating paleo?
Probably about 9 months- a year.
What did you eat prior to your family finding the paleo lifestyle?
Well even before we went paleo, my family was always considered "healthier" than my other friends. Especially because one night I had so much spinach (not by choice) that my tongue turned green. It was hard to get my normal color back. I was eating a PB&J sandwich every day for lunch at school but it was with whole wheat bread (which we found out isn't as healthy as we thought) and after school I had one sliced tomato with salt and oregano (I still do!) , we had pasta sometimes and pizza (yum!). It's a little bit hard to remember what we ate. I mean, I focus so much on the things that are my favorite foods that it's hard to remember the stuff I don't like as much.
What is your favorite food?
During the transition, my favorite foods didn't change but now I just can't eat them very often. Like cheese pizza, French fries, my dad's homemade chocolate chip cookies, bread, Honey Nut Cheerios, corn empanadas, quesadillas and tortellini.
What do you do when you go out with your friends to the food court at the mall?
Most of the time I just get whatever I want. But the times when I was being more strict with myself I got frozen lemonade and french fries.
Do you notice a difference when you eat SAD (Standard American Diet) food?
Well, I get more cranky and my acne gets A LOT worse!
What would you say is the hardest thing about eating real food?
Probably the amount of organ meat. I like meat but I'm pretty picky about it. Also, when I go to my friend's house for a sleepover, the food that used to fill me up until the next meal time barely holds me for an hour. It turns me into an eating machine. In the end I feel full, but empty. Like full of food, but empty of nutrients that make me feel…relaxed. You'll understand if you experience it.
Would you say you're an 80/20 (80% paleo/20% non paleo), more or less?
Yes. I eat paleo at home but on the weekends when I go out I choose what I want. Recently I've been 100% paleo to prepare and recover from my surgery but after 5 more months I'm going back to my old ways.
What changes have you noticed since adopting this lifestyle?
I noticed that when I eat clean my acne goes away. Just vanishes. It's pretty amazing actually. And sometimes I put coconut oil on my face, which also helps. With that combo, my face is softer than all my friends who have their fancy moisturizers.
Do you think you'll continue eating this way when you're an adult? Why or why not?
I don't think I can decide right now. I can barely decide what I want to wear to the mall. I think I'll probably be 80/20 because I know the dangers of gluten and dairy but on the other hand, it's so hard to resist.
What would you say to another teenager whose thinking about going paleo whether for weight, health or clearer skin? Is it worth it or should they run the other way?
I think it's worth it but I know it's really hard so I would say try your best and see the results YOU get. Everybody's different. Besides, you don't have anything to lose, and you can always let yourself have a treat!
Want to learn more about how to transition your family to paleo?  Read my eBook Paleo Made Easy. It contains practical advice for busy families, shopping tips,  answers to pretty much every paleo lifestyle question, and 45+ paleo recipes!  Learn more here.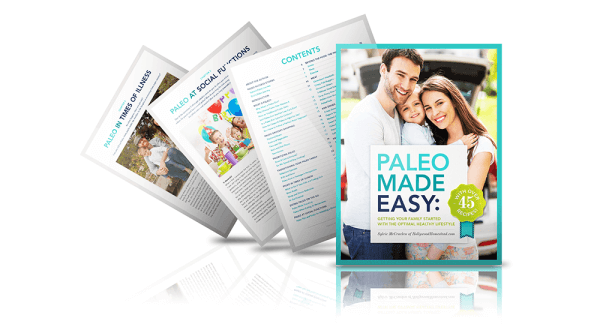 Leave a comment for Natalie if this was helpful and please feel free to share!
The following two tabs change content below.
Sylvie McCracken is a former celebrity assistant in Hollywood turned full time entrepreneur currently living in Ashland, Oregon with her kids. She writes about treating and preventing health conditions with real food and natural remedies, as well as anything else she feels like writing about because she's a rebel like that. ? he also mentors health professionals turned entrepreneurs on her other site, SylvieMcCracken.com
Latest posts by Sylvie McCracken (see all)