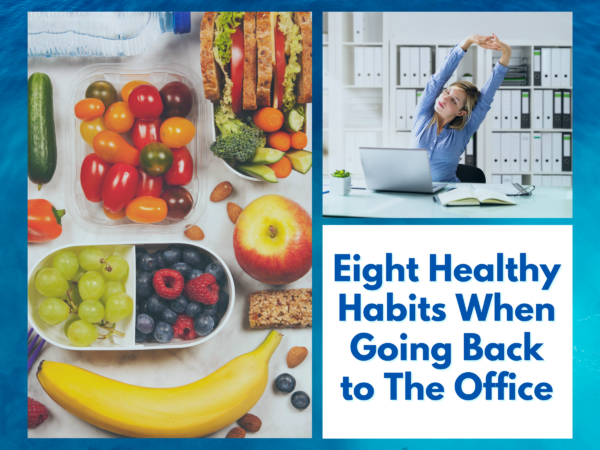 If there is one thing that has been consistent over the past few years, it's that change is always right around the corner. Change comes in all forms. One day you may be packing up your things and working from home, and the next you are moving back to the office. Parents have had to change how and when they get their children ready for school. Job loss, pandemics, and other changes force us to adjust our schedules.
Through all changes, healthy habits in a solid routine are vital to de-stressing for a healthy body and mind.
Integrating healthy habits does not mean you have to blow up your current routine. No need to replace your current schedule with hours at the gym, hours of meal-prepping, or hours of self-care. Studies show that integrating small, healthy habits into a current routine is more effective than taking extreme measures.
Going back to the office? Starting a new job? Want to experience positive change in your health through all changes and transitions? Consider integrating these healthy habits into your routine.
Healthy Habit #1: Enjoy the Sunshine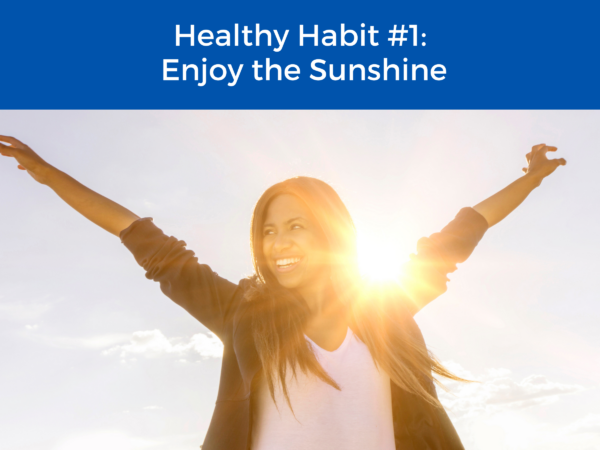 Vitamin D plays many roles in the body: it helps to reduce inflammation, strengthen immune function, and encourage healthy cell growth. Some studies suggest that Vitamin D can even reduce the growth of cancer cells. Vitamin D can be found in a variety of foods and supplements, but the best source of Vitamin D is sunlight.
It doesn't matter how fast you are moving or how much you are sweating when you're outside. Sun exposure causes the body to convert cholesterol into Vitamin D. Enjoy a walk, a picnic, or just sunbathe responsibly.
If you can't get healthy sun exposure, you can supplement vitamin D orally or through intramuscular injections. Vitamin D3 is recommended over Vitamin D. As always, consult with your healthcare provider for dosing. This is the brand I use – I take 5,000 I.Us per day.
You can and should test your Vitamin D levels to make sure you stay within the recommended range of 50-80 ng/mL. It is also possible to have too much Vitamin D in your system – toxicity begins at 150 ng/mL. You can take Vitamin D tests through your healthcare provider, or order it directly yourself for an at-home, easy finger-prick test on this site.
Healthy Habit #2: Eat Smaller Meals or Healthy Snacks Throughout the Day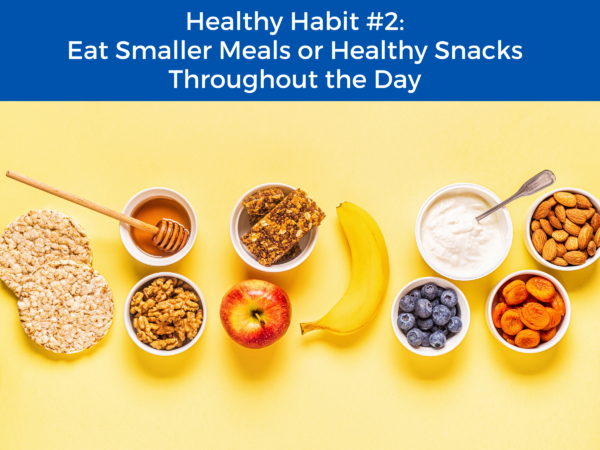 Changes in routines can lead many people to reduce their three, square meals a day into one or two big meals. Instead, consider moving in the opposite direction and eating smaller, more frequent meals.
Once you put food into your body, your digestive system goes to work. And like our minds, bodies can get overwhelmed when undergoing a lot of work at once. Eating small meals throughout the day can help reduce the load that the digestive system has to handle. Be mindful about when you eat, and consider a schedule with more frequent, smaller meals.
Healthy Habit #3: Drink Three Liters of Water Each Day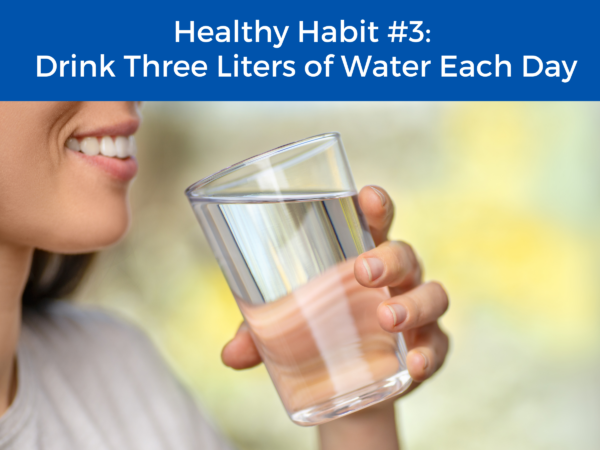 We need to hydrate! Dehydration can lead to a myriad of issues, from low blood pressure to overheating to negative changes in mood. Our entire body functions at a higher level when we are hydrated.
The easiest way to integrate this habit into your routine is to keep a water bottle on hand at all times. Choose a style that keeps track of how much you should be drinking or a design that encourages you to keep it at your desk. When it's in front of you, you're more likely to take a sip.
I am a bit of a water quality nerd. One of the best investments I've ever made is my countertop Berkey Filter. It's a great option if you want to easily move your filter and always drink high-quality water. I even took it on an international move with me – that's how much I love it. It's a small investment but the filters last a long time. I have a large family, and each filter lasts about a year. If you have a smaller family, you might get two years before needing to replace it!
In addition to the Berkey, a tiny investment in two of these glass pitchers makes it easy to have a pitcher full of filtered water at my fingertips (on my desk!) and drink plenty of water throughout the workday.
Healthy Habit #4: Chew Your Food Mindfully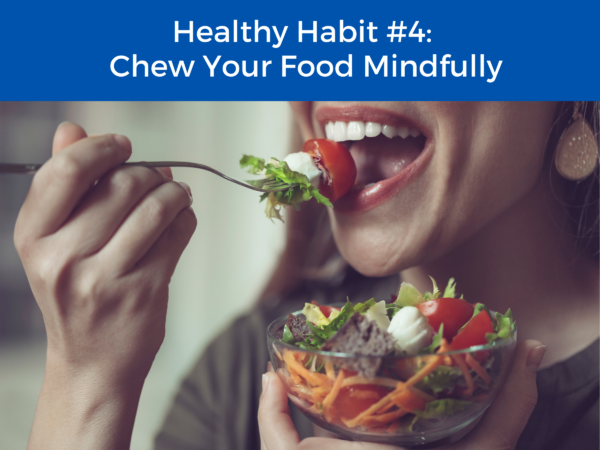 How often do you think about the food you are chewing? The answer may have an impact on your digestion. Chewing food mindfully not only breaks down food and makes it easier to digest, but it also bides some extra time as the body tells the brain that it's full. The longer you chew your food, the less risk you run of overwhelming your digestive system. Once you're done, you can finish your meal without that uncomfortable, "too full" feeling.
If you integrate one healthy habit into your routine, let it be this one! All you have to do is stay mindful and focus on your food as you are chewing. Give yourself a goal of chewing between 25-35 times before you swallow to help you focus and keep you on track.
Healthy Habit #5: De-Stress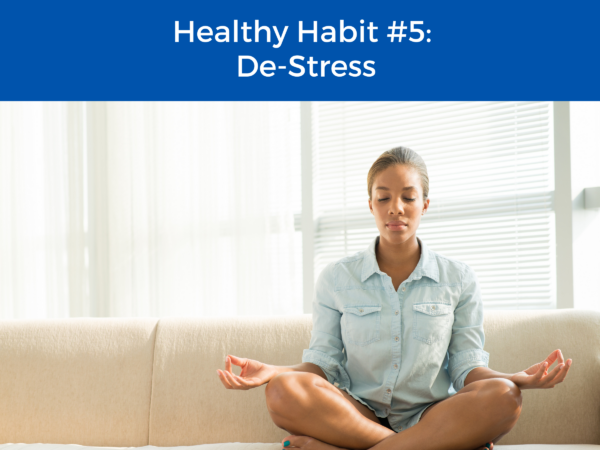 Creating routines and adjusting to change causes stress. As you start going back to the office or move through any transition, take time to de-stress. Chronic stress puts our bodies and minds at risk of conditions including anxiety, depression, cardiovascular disease, or high blood pressure.
Even if you are spending five minutes a day de-stressing, your body will thank you for prioritizing a state of calm and relaxation. Meditation, coloring, repeating positive affirmations, or indulging in a hobby can help you de-stress. Pick your favorite habit for your routine and know that you are doing something positive for your health!
Healthy Habit #6: Integrate Probiotics and Supplements into your Diet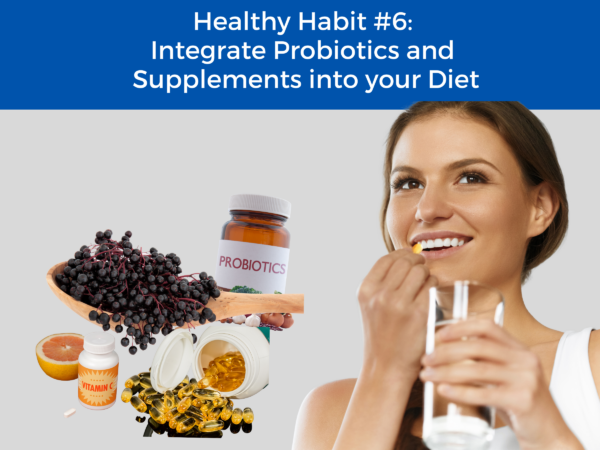 Ensuring that your diet contains every recommended dosage of vitamins and minerals can be a pain at best, and impossible at worst. Instead of trying to create elaborate meals that check every box, you can elevate your health with probiotics and supplements. Adding these into your routine takes no longer than buying the supplements of your choice and having them close by where you complete your morning routine or have meals throughout the day.
Some of the supplements in my routine include:
Probiotics and SIBO
Adding probiotics into your routine may also enhance your daily routine, but folks with SIBO or IBS should take more caution when looking for probiotics. Most probiotics contain prebiotics that feeds healthy bacteria. Normally, this is a benefit. Generally, people want to encourage the growth of healthy bacteria in their gut. People with SIBO or IBS, however, already have an overgrowth of bacteria in the gut. They don't need prebiotics feeding their bacteria with anything more than what is in their bodies!
Every case of SIBO or IBS is different. Probiotics can work for SIBO alongside other supplements. Check out my list of five types of probiotics that help to treat SIBO, and consider adding these probiotics into your routine first.
Healthy Habit #7: Get Eight Hours of Sleep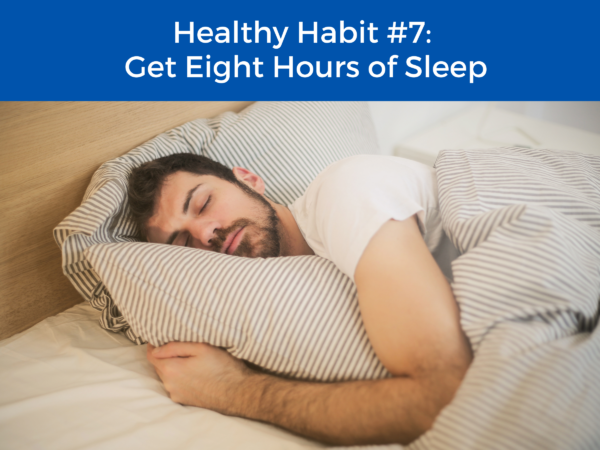 Stress and sleep can create a vicious cycle if you are not mindful of your healthy habits. With high stress, you are less likely to get the recommended eight hours of sleep. Without eight hours of sleep, your body does not complete the functions that take place during sleep. Cell repair, memory storage, and hormone production all take place while we're asleep. Long nights without sleep inevitably put more stress on the body and mind, continuing the cycle. Insomnia and other sleep disorders may be a result of high levels of stress and a lack of sleep.
You can break the cycle by getting eight hours of sleep a night. Prepare yourself for a good night's sleep by eliminating screens and de-stressing beforehand. Sleeping at the same time every night can also encourage optimal rest and rejuvenation.
Healthy Habit #8: Stretch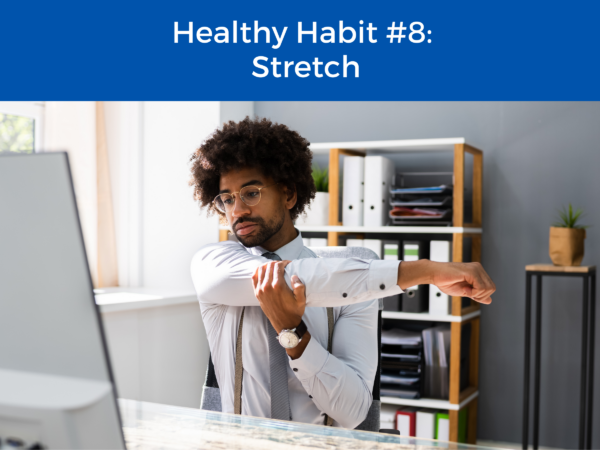 You know that stretching aids with flexibility and mobility, but did you know it can also help digestion? Wait 30-60 minutes after eating and compress your intestines with stretches like "Cat-Cow," twists, or putting your legs up the wall. This compression encourages movement in the gut. No need to stretch immediately after you've eaten – waiting 30-60 minutes after eating is ideal for aiding digestion.
Adding one, two, or all eight of these habits into your routine as you return to the office can help you enjoy a healthier body and mind! Which of these habits will you commit to first? Let me know in the comments!
The following two tabs change content below.
Sylvie McCracken is a former celebrity assistant in Hollywood turned full time entrepreneur currently living in Ashland, Oregon with her kids. She writes about treating and preventing health conditions with real food and natural remedies, as well as anything else she feels like writing about because she's a rebel like that. ? he also mentors health professionals turned entrepreneurs on her other site, SylvieMcCracken.com
Latest posts by Sylvie McCracken (see all)