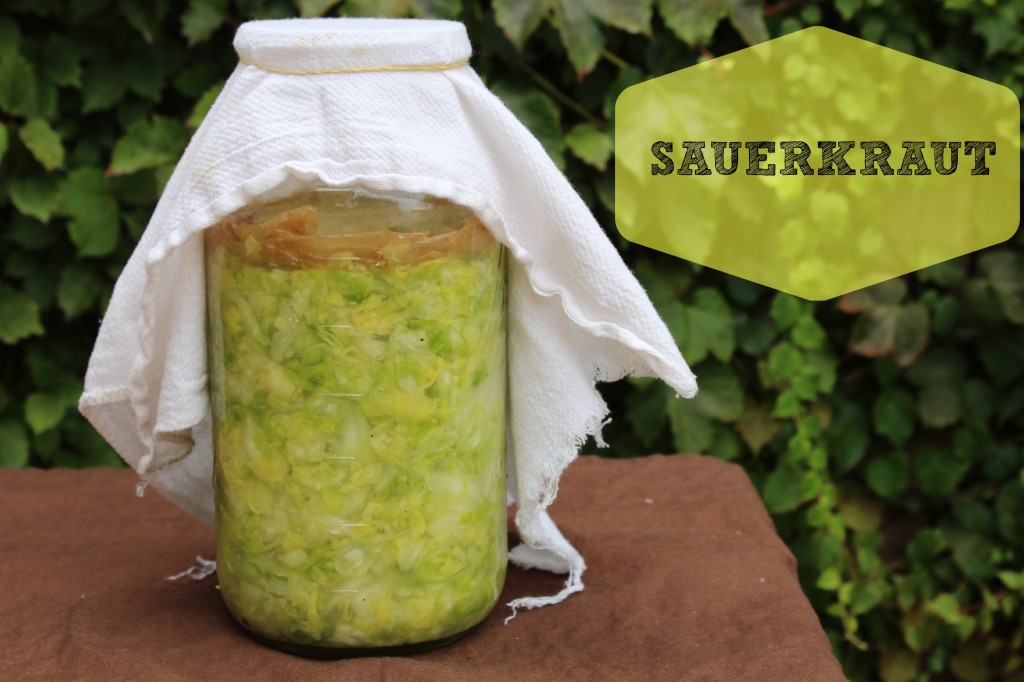 Fermented foods are a great way to include some good bacteria in your diet!  Similarly to kombucha, sauerkraut is a fermented food that will help keep the flora in your gut well balanced, aiding in digestion and overall health.  For more info on the benefits of fermented foods, check out this great post by Mark Sisson author of The Primal Blueprint and The Primal Connection.  If you're not up for making your own, you can buy a very clean brand here.  You may also be able to find it at your local health food store.  Just make sure it's in the refrigerated section (as it should be if its truly fermented, not preserved with a bunch of crummy chemicals) and that the ingredients are cabbage and salt and perhaps a few other recognizable ones for flavor as in the recipe below!
Making sauerkraut is super easy though and only costs a few cents a batch!
What you will need for homemade sauerkraut:
Directions:
Chop cabbage (save 1 leaf to cover in jar when finished).
Using 1/6 of the cabbage at a time, mix in 1 tsp. salt and mash with hands until liquid begins to emerge.
Continue this until all cabbage and salt is used.
Add garlic and pepper and continue to mix and mash.
Once finished fill a 1/2 gallon mason jar with the cabbage.  Liquid should be covering all cabbage.
Place the leftover cabbage leaf over the top of the shredded cabbage.  Try to get as much air out as possible.
Cover jar with a cloth and rubber band and wait 7 days or so.  Taste periodically using a clean utensil each time.   If a little mold develops simply remove it- it will not affect the rest of it.
Once it is to your liking, store in the refrigerator.  It will keep for weeks as the refrigeration will slow down the fermentation quite a bit.
Enjoy!
What is your favorite ferment?
Want to learn more about fermenting food? Check out Oh Lardy's Guide to Fermenting Fruits & Vegetables. You will get easy instructions and delicious recipes to put you on the road to better health.

The following two tabs change content below.
Sylvie McCracken is a former celebrity assistant in Hollywood turned full time entrepreneur currently living in Ashland, Oregon with her kids. She writes about treating and preventing health conditions with real food and natural remedies, as well as anything else she feels like writing about because she's a rebel like that. ? he also mentors health professionals turned entrepreneurs on her other site, SylvieMcCracken.com
Latest posts by Sylvie McCracken (see all)