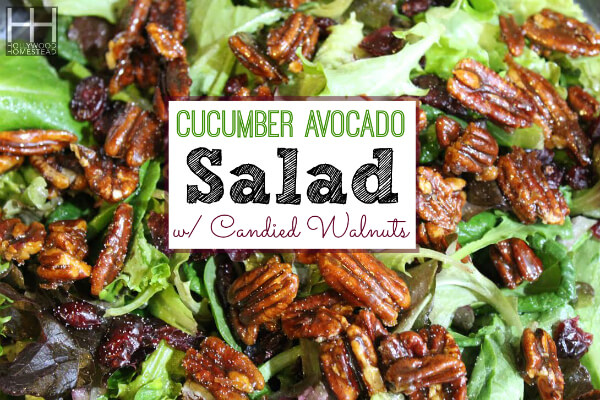 Is it just me that has been on a salad kick lately?  Maybe it's because it's 80+ degrees in SoCal despite it being January?!
I love this salad because it's sweet, tart, crunchy and filling.  I've been taking salads to work almost daily!  (If you don't believe me, come join me on Instagram!)
It's so easy to make 5 salads for the week in large mason jars and just grab one in the morning on my way out the door.  Plus, after all the paleo chocolate cupakes I ate last month, my body could use a steady supply of clean eats right now!
Cucumber Avocado Salad with Candied Walnuts
Ingredients:
Directions:
Put the honey in a pan on medium heat until it melts.
Add the shelled and halved walnuts and mix until the honey coats them completely.
Increase the heat and mix until it becomes a dark golden brown color.
Remove from stove and place on parchment paper to cool.
Break apart and sprinkle on salad with the remaining ingredients.
Serve and enjoy!
For more delicious salad and salad dressing recipes, check out this ebook with over 99 pages of Salad recipes.  You can purchase it here or read my review here.
What are your favorite salad ingredients?
The following two tabs change content below.
Sylvie McCracken is a former celebrity assistant in Hollywood turned full time entrepreneur currently living in Ashland, Oregon with her kids. She writes about treating and preventing health conditions with real food and natural remedies, as well as anything else she feels like writing about because she's a rebel like that. ? he also mentors health professionals turned entrepreneurs on her other site, SylvieMcCracken.com
Latest posts by Sylvie McCracken (see all)