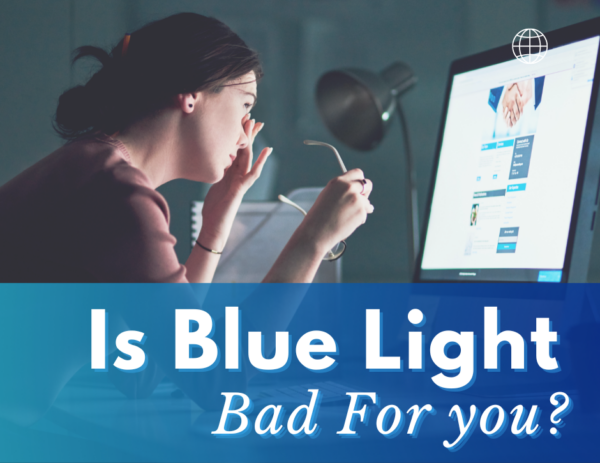 Our day-to-day is now filled with screens. We turn off our computers and look at our phones. We turn off our phones and look at our tablets. Breaks from blue light are pretty rare! With all this time spent in front of screens, naturally people are curious about its effects. Blue light from screens may not be bad for you in moderation, but overexposure certainly comes with risks. Fortunately, blue light filters and other products can help reduce our exposure to blue light and help us sleep, rest our eyes, and stay healthy.
Is Blue Light Bad For You?
Exposure to blue light is natural. It comes from the sun as well as our screens. Although studies are still being conducted on how blue light affects eye health, we know that it can impact sleep cycles. Too much blue light at night inhibits the production of melatonin throughout the body.
What Is Blue Light?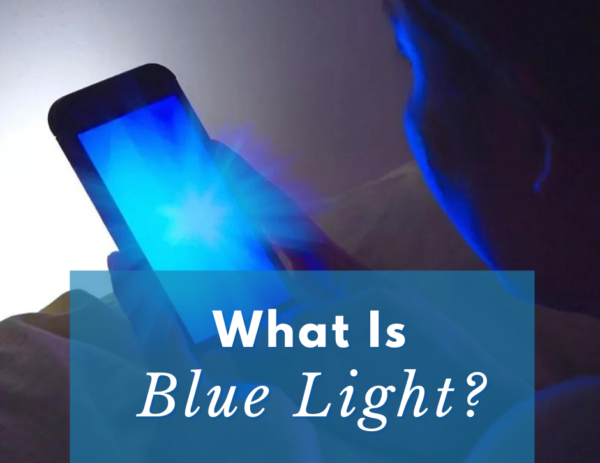 All light is made up of energy, and that energy comes in the form of different wavelengths. Infrared rays, UV rays, and X-rays are on this spectrum alongside visible light, but have more extreme wavelengths that our eyes cannot pick up on.
Visible length contains a range of wavelengths that our eyes' photoreceptors can absorb and convert into signals. These signals tell our brain what color we are viewing. Red light has slightly longer wavelengths, while green or blue light has shorter wavelengths. Actually blue light has more energy packed into each unit of light than other forms of visible light!
Obviously, blue lights are a form of blue light. But sunlight is considered to be blue light. It is actually a combination of all the colors, creating the "white light" that we know from the sun. LED lights, computer monitors, phone screens, and fluorescent lights also fall under the "blue light" umbrella.
Are all of these forms of light dangerous? Not exactly, although there is speculation as to whether this dense form of light causes danger to your eyes, skin, and sleep patterns.
How Blue Light Affects Your Eyes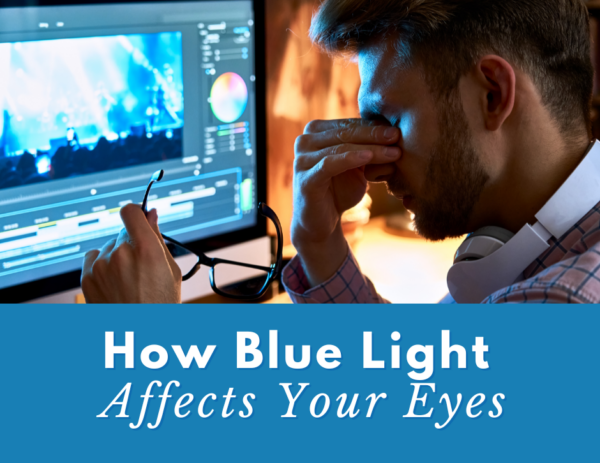 Have you ever had a headache after looking at the computer screen for too long? Most people who work in an office may relate to this. Spending a long period of time in front of a computer with no breaks can lead to digital eyestrain. Our brains and eyes have to work harder to process the light emitted by screens and the lack of contrast on the screens, and that can overwhelm the eyes.
What does this mean in the long run? Experts can't say for sure. Studies have been done that suggest animal retinas may be damaged by too much exposure to blue lights and screens. Likely, this means humans may experience that damage, too. But no definitive studies suggest that macular degeneration or other eye problems are directly caused by time on your phone.
Still, it's worth placing blue light filters over your screens. Giving yourself a break or filtering blue light is like wearing sunglasses outside. You can still take in the light around you, but it won't be so overwhelming to the eyes and brain.
How Blue Light Affects Sleep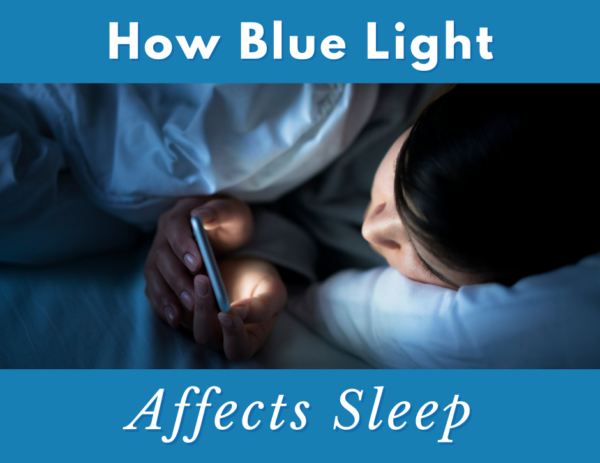 Filtering blue light can also help you sleep better. Our bodies respond to darkness by producing melatonin and winding us down for sleep. (This is part of a 24-hour circadian rhythm.) When exposed to blue light, our body holds off on melatonin production. Because it can take two hours for melatonin to "kick in," you need to drastically reduce your exposure to blue light in the evening. (Alternatively, waking up to natural light in the morning can help to keep your circadian rhythm in check, too!)
Do Blue Light Glasses Help You Sleep?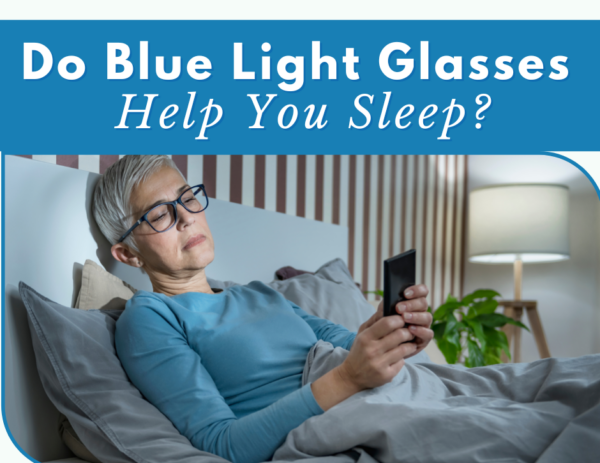 Filtering out light with the help of blue light blocking glasses can help you sleep. The sooner you stop exposing your eyes to blue light, the sooner your brain will send out signals to release melatonin. This route lessens the need for supplements (which are technically hormone therapy.) Before reaching out to your doctor and asking about melatonin supplements, try wearing blue light blocking glasses in the evening.
These are my favorite inexpensive blue light blocking glasses.
How Blue Light Affects Skin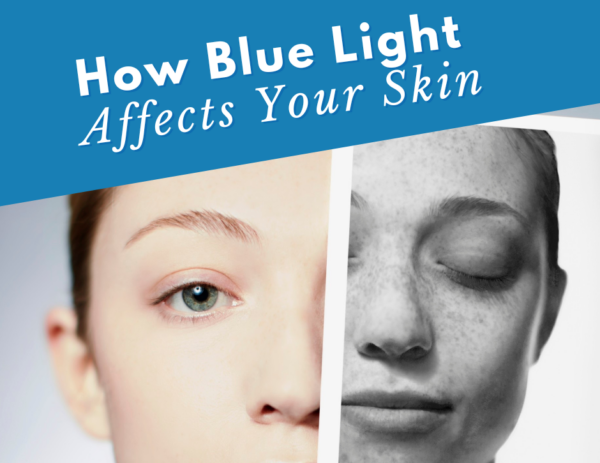 There is a lot of discussion surrounding blue light, the retina, and the sleep cycle. There is also a lot of discussion surrounding ultraviolet light and the skin. UV light is invisible and is made from faster wavelengths than blue lights, but the two are often compared. This leads many people to ask, how does blue light affect skin?
There is still research to be done on blue light and skin cells, but some studies suggest blue light exposure could speed up the aging process.
Is Blue Light Good for You?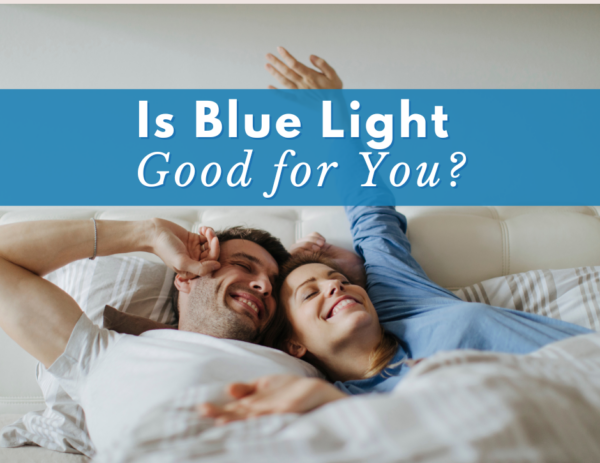 In all this discussion about blue light, it is important to remember that this form of light does have benefits. Exposure to blue light in the morning wakes up your body and regulates your circadian rhythm. Blue light can be used to treat acne. Moderate exposure can help to boost memory and cognitive function. We cannot survive in a world of darkness, but our blue light exposure must be regulated so we are not overwhelming our eyes, brain, and skin.
Have you used blue light filters or glasses to reduce your exposure to blue light? If not, give them a try! If you have, let us know how they have affected you by leaving a comment below!
The following two tabs change content below.
Sylvie McCracken is a former celebrity assistant in Hollywood turned full time entrepreneur currently living in Ashland, Oregon with her kids. She writes about treating and preventing health conditions with real food and natural remedies, as well as anything else she feels like writing about because she's a rebel like that. ? he also mentors health professionals turned entrepreneurs on her other site, SylvieMcCracken.com
Latest posts by Sylvie McCracken (see all)