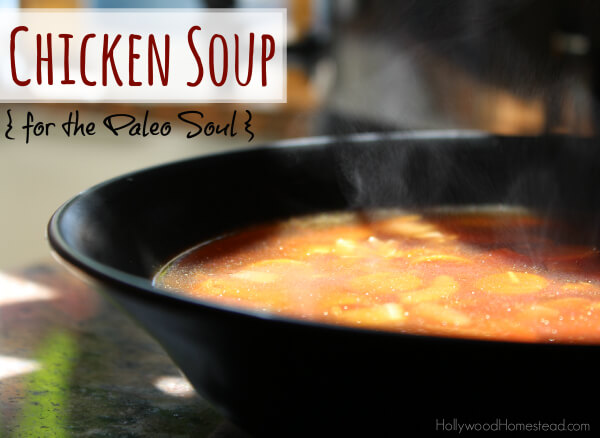 You all know I'm a huge fan of bone broth, right?  I posted my super simple recipe HERE and a post about how bone broth is the new botox HERE.
When I'm not chugging a mug of it daily, which is quite often especially during cold months, you'll find me making paleo soup with it!
Here is a great simple recipe for paleo chicken soup to include a hefty dose of bone broth in your family's diet.  They don't call it the Jewish penicillin for nothin'!
What you need for this easy paleo chicken soup:
Optional: if you've just gotta have some noodles in your chicken soup but you're grain free, just use this spiral slicer to whip up some zucchini noodles to toss in!  Delicious!
Directions:
Combine the bone broth and water in a large pot.
Heat on medium until simmering.
Chop onions, carrots and celery and add to pot.
Add chicken.
Heat until simmering again.
Add salt.
Let simmer until veggies are soft.
Enjoy!
Don't have time to make your own bone broth? This is a great quality bone broth you can order and have shipped to you.  You can find it here.
Want even more recipes which include gelatin-rich bone broth?  Check out my new eBook The Gelatin Secret.  You will get dozens of recipes, instructions for making bone broth at home, and loads of information about how gelatin nourishes each part of your body.
What is your favorite paleo chicken soup recipe?  Feel free to link to it below!
This post is part of the following blog carnival: Food Renegade Fight Back Fridays
The following two tabs change content below.
Sylvie McCracken is a former celebrity assistant in Hollywood turned full time entrepreneur currently living in Ashland, Oregon with her kids. She writes about treating and preventing health conditions with real food and natural remedies, as well as anything else she feels like writing about because she's a rebel like that. ? he also mentors health professionals turned entrepreneurs on her other site, SylvieMcCracken.com
Latest posts by Sylvie McCracken (see all)