If you've been reading my blog for a while you'll know I don't write about exercise often… That's because its not my forte.  I'm no expert in the topic.
Excuse: As a kid with a congenital heart condition I wasn't allowed to participate in sports very often.  My mom would even call me in from playing in the snow to take frequent breaks afraid I would trigger another uncontrollable episode of tachycardia which I remember scaring the crap out of her.  As an adult, exercise is something I struggle to make a habit of.  Even now, several years after my heart catheter ablation that permanently "fixed" me, I'm not exactly what you would call athletic, but I understand the importance of making it a priority since, as Julie from Real Fit Mama says:
"Exercise is not only necessary for health; it is a keystone of mood and psychological well-being."
At the moment, I take a yoga class at least once a week and I work on my treadmill desk from Monday to Friday aiming for 70,000 steps per week which I track with my fitbit since "sitting is the new smoking" and ain't nobody got time to die early.  I also fit in kettlebell workouts from home 3 times per week which I love because in just 15-20 minutes I can really get.it.done.  Efficiency is my middle name.
I'm excited to tell you about this BRAND NEW book, Real Fit at Every Age, written by my friend and fellow blogger Julie De Lagarde of Real Fit Mama.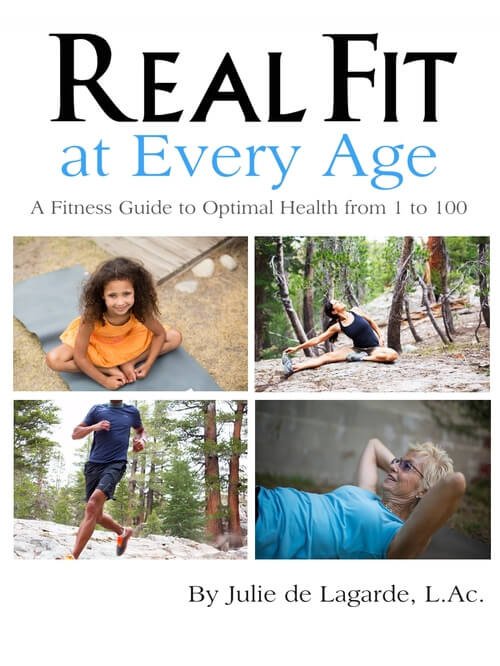 Julie could not have been more thorough in this book if she tried!  From toddlers to centenarians she's got everyone covered as far as fitness goes.  Pregnant or trying to get knocked up? Yup, she's got you covered too!  With colorful photos, easy to follow step-by-step instructions and countless varieties of exercise to bust each of your excuses Real Fit at Every Age is a powerful reference guide for fitness at every stage of your life.  Its like an encyclopedia of fitness.
I dare you to have an excuse not to exercise after reading Real Fit at Every Age.  I'm pretty much an expert at excuses.  My family often jokes that I should have become a lawyer- I may or may not win a lot of arguments.  I plead the fifth. 😉  But even I have no excuses to not fit exercise into my life despite 2 time consuming jobs and 3 children.
Some of the benefits of exercise that Julie describes in Real Fit at Every Age and that I have noticed first hand:
Detoxifies you from the inside out
Boosts brain power & maintains mental alertness
Supports healthy bone density
Benefits skin tone
Improves posture
Improves digestion
Creates better balance
Prevents bone fractures
Induces better sleep
Promotes positive mood
This is Julie below.   I will spare you of photos of my yoga poses.  You're welcome.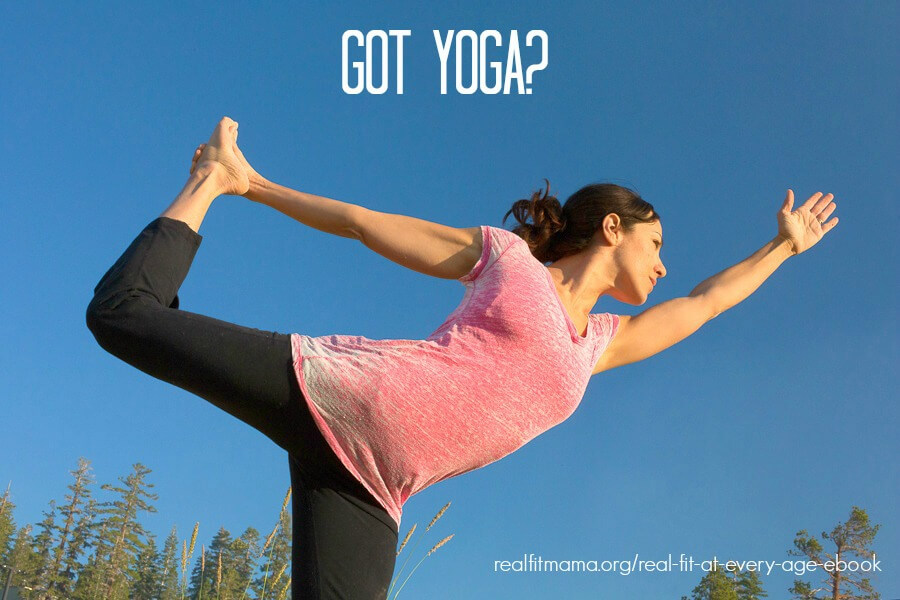 I have the honor of knowing Julie personally and I'm so glad she has successfully packaged up her radiance in Real Fit at Every Age to share with all of you. So if you're after a little motivation or just a few simple tips as to how you can develop your fitness game, then get your hands on Real Fit at Every Age. It's 20% OFF right now!
Please share: what exercise do you like to do?
The following two tabs change content below.
Sylvie McCracken is a former celebrity assistant in Hollywood turned full time entrepreneur currently living in Ashland, Oregon with her kids. She writes about treating and preventing health conditions with real food and natural remedies, as well as anything else she feels like writing about because she's a rebel like that. ? he also mentors health professionals turned entrepreneurs on her other site, SylvieMcCracken.com
Latest posts by Sylvie McCracken (see all)