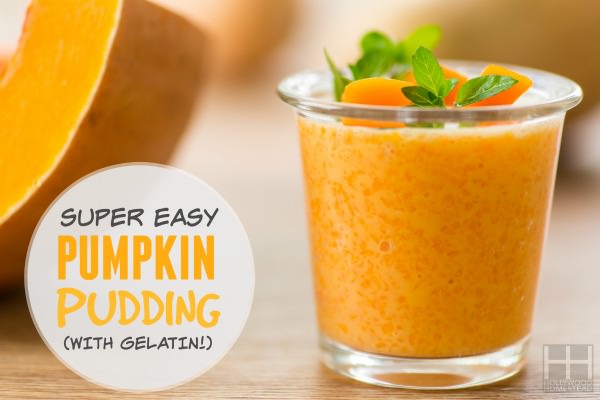 It is pumpkin season again, which means all sorts of tasty pumpkin desserts. Now, I am not usually one for desserts but this paleo pumpkin pudding recipe is a treat you can feel good about eating. The recipe comes from my eBook The Gelatin Secret and, yes, includes gelatin. Gelatin is by far one of the best ancestral superfoods that you can eat. It heals your gut, builds strong bones, fights arthritis, gives you awesome looking skin, and more. Since the pudding is sweetened with raw honey, you are also giving your body a dose of healthy probiotics too!
I use the Great Lakes brand Bovine Gelatin for cooking because it is sourced from grass-fed cows and made by cooking down bones and connective tissues. That means you are getting the same quality of gelatin that you'd get in homemade bone broth. It is also flavorless, so you can use it in all sorts of recipes. You can buy the gelatin here.  Considering how little of the stuff you need, it is pretty cheap 🙂
Ingredients:
15 oz (1 can) full-fat coconut milk
1/3 cup pureed canned pumpkin (or make your own!)
1 Tbsp honey (preferably raw)
1 Tbsp gelatin
1 tsp vanilla extract
½ tsp cinnamon
Directions:
Add all ingredients (excluding the gelatin) to a small pot and warm on low/med heat
Use an immersion blender to blend ingredients
Add gelatin and mix again with the immersion blender
Turn off heat and pour into container to cool
Put in fridge for 1 hour
Enjoy!
Want more great gelatin recipes? Check out my eBook The Gelatin Secret. You will learn how gelatin can transform your health and beauty, and get over 45 paleo-friendly gelatin recipes for tasty dishes like custards, gummies, condiments, smoothies, and even ice cream. Buy The Gelatin Secret here.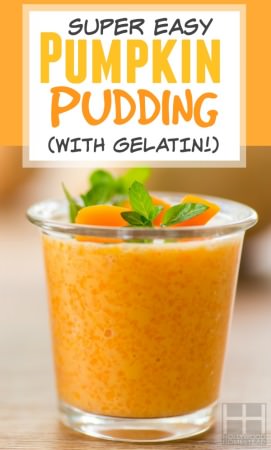 The following two tabs change content below.
Sylvie McCracken is a former celebrity assistant in Hollywood turned full time entrepreneur currently living in Ashland, Oregon with her kids. She writes about treating and preventing health conditions with real food and natural remedies, as well as anything else she feels like writing about because she's a rebel like that. ? he also mentors health professionals turned entrepreneurs on her other site, SylvieMcCracken.com
Latest posts by Sylvie McCracken (see all)