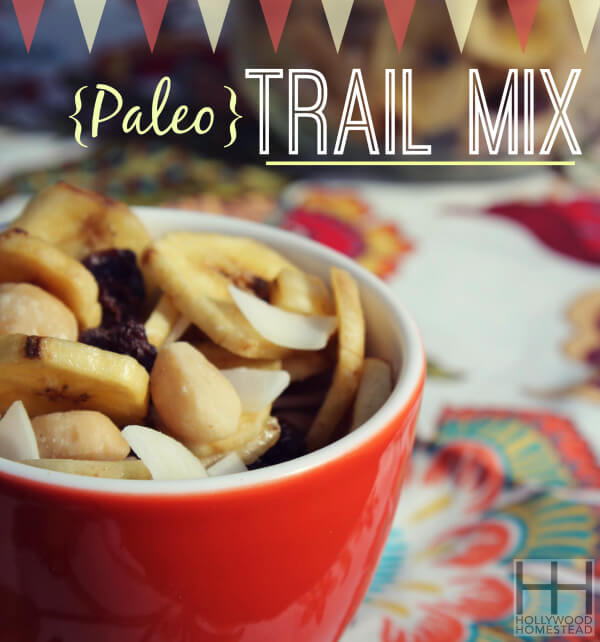 When I first started paleo I remember feeling sort of desperate to find a snack I could have on the go, or at work that was clean since I felt like there was just about nothing I could buy while out and about.  A few months into paleo I realized I simply wasn't as hungry between meals as I used to be.  Still! Having a snack to toss in your purse or diaper bag is super helpful when life throws you a curveball.
A couple weekends ago we went camping.  One of the easiest things to have on hand for camping, hiking and running around is trail mix!  It's super easy to make and as a control freak that wants only the best quality ingredients in my kids bellies as often as possible, I prefer to buy everything separately and just toss it together!
This one is a pretty sweet one since it has both raisins and banana chips and even sweeter if you add the chocolate chips.  Macadamia nuts are my absolute favorite nut!  You can add just about any nut or dried fruit and it should keep pretty well as long as you're not in the dessert in the middle of summer.
Paleo Trail Mix
What you will need:
Directions:
Add banana chips, coconut chips, raisins, and macadamia nuts together in equal amounts.
Mix well.
Enjoy!
 What are your favorite trail mix ingredients?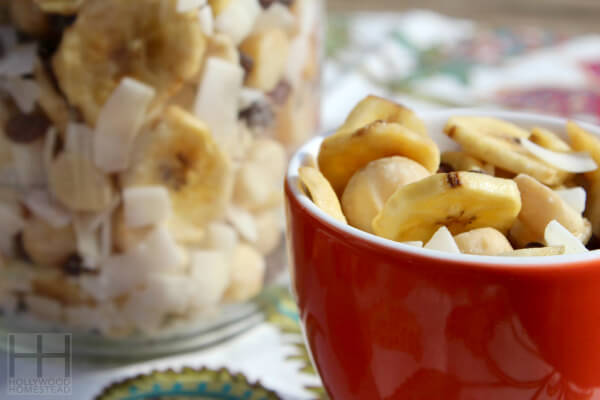 The following two tabs change content below.
Sylvie McCracken is a former celebrity assistant in Hollywood turned full time entrepreneur currently living in Ashland, Oregon with her kids. She writes about treating and preventing health conditions with real food and natural remedies, as well as anything else she feels like writing about because she's a rebel like that. ? he also mentors health professionals turned entrepreneurs on her other site, SylvieMcCracken.com
Latest posts by Sylvie McCracken (see all)