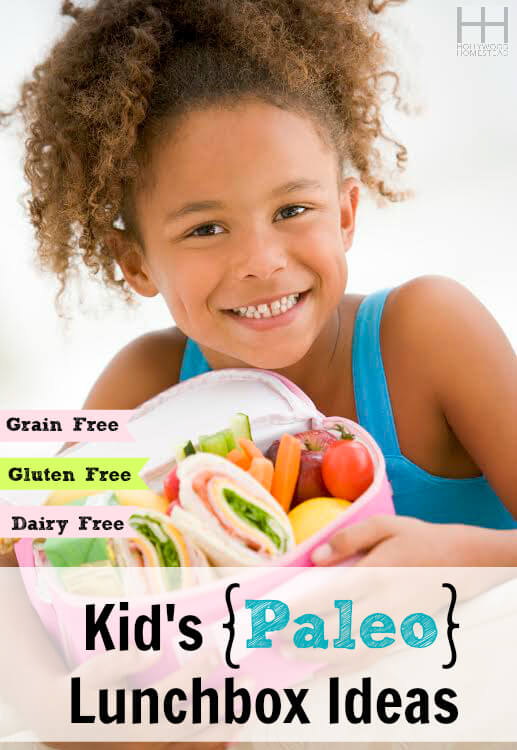 Need some lunch inspiration for your paleo kids? Here is an example of  the kid-friendly paleo lunches that I pack for my 3 and 4 year olds.
These are the lunchboxes we use and love.  We've had them for several years and try as they might neither the kids nor the dogs seem to be able to destroy them. Worth every penny.  If you're looking for something more affordable but still want to stick with stainless steel, these look like a great option as well!
Expect on rare occasions, we don't give our kids juice to drink (you can ready about why juice is bad for kids here).  Instead, they always have water to drink. We like to use these water bottles which are BPA free and easy for them to flip open on their own.
Paleo Kids Lunch Ideas
Preschool Paleo Lunch # 1 – Leftover pan fried salmon, sliced cherry tomatoes and grapes and raspberries!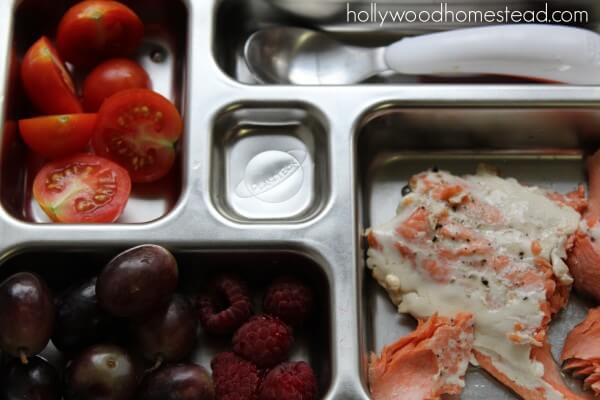 Preschool Paleo Lunch #2 – Leftover porkchops, sliced plums from our CSA box and cherry tomatoes!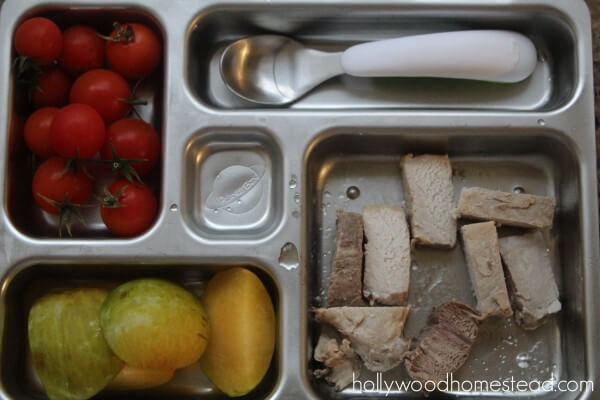 Preschool Paleo Lunch #3 – Leftover salmon, roasted sweet potatoes, baby broccoli salad, and honeydew melon!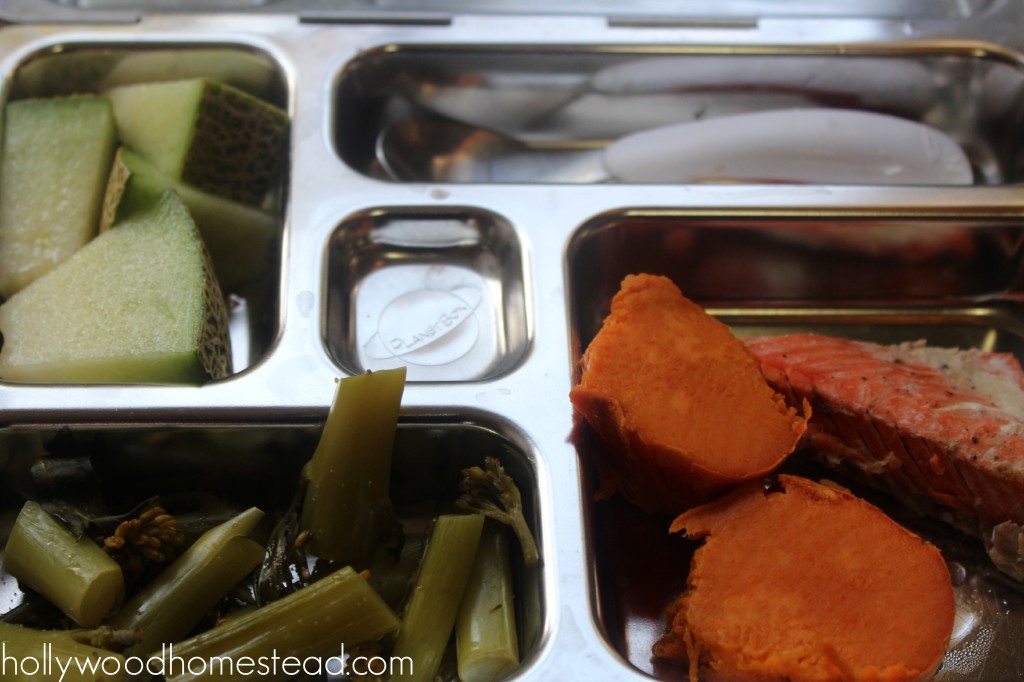 Preschool Paleo Lunch #4 – Scrambled eggs, watermelon and coconut chips.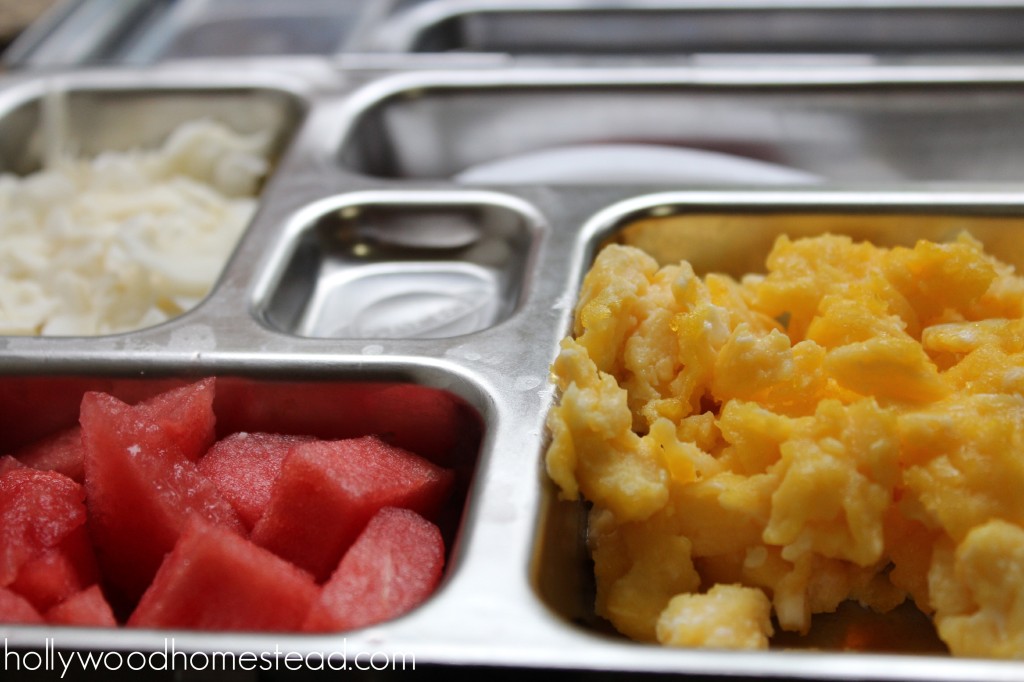 Preschool Paleo Lunch #5 – Leftover quiche (recipe coming soon), tuna salad and strawberries and plums!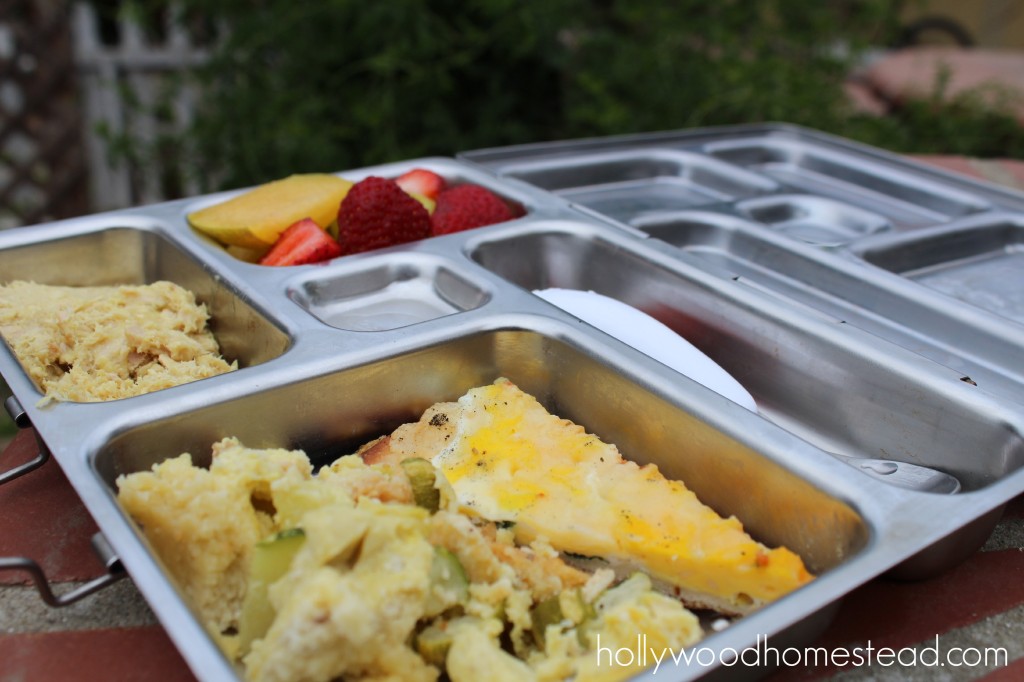 Preschool Paleo Lunch #6 – Liverwurst, beets,  peaches, tomatoes, coconut chips and homemade mayo.
(Sorry this image is so bad.  It is from before I learned how to take better pictures 🙂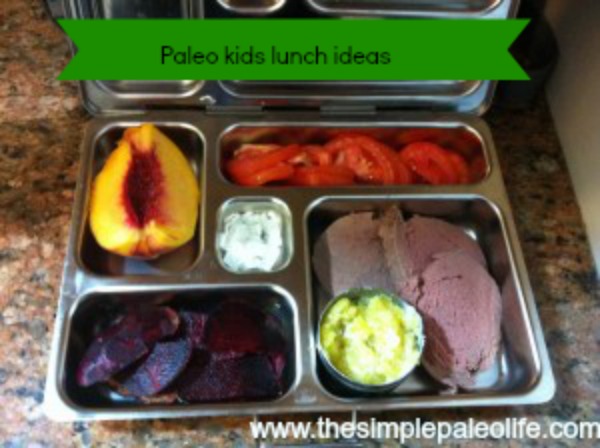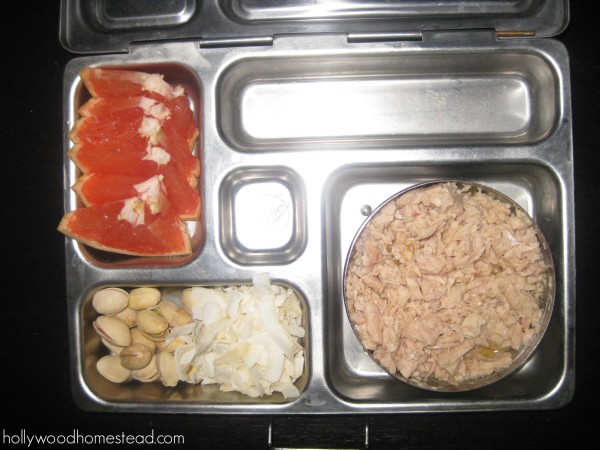 Preschool Paleo Lunch #8 – Nitrate free salami, pear slices, tomato slices and coconut chips!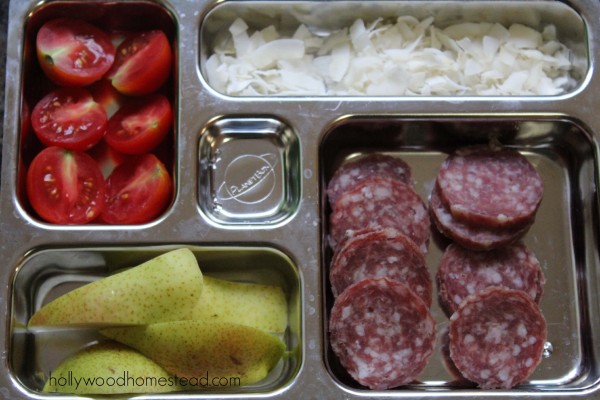 Need more kid friendly paleo meal ideas for dinners and whatnot?  Here is an entire roundup of recipes for you!
Want even more fabulous lunchbox ideas for your paleo kids? Check out the eBook Joshua's Prime Lunchbox.  It has over 50 gluten-free, healthy, real-food lunch box ideas and recipes, kid's snack ideas, and loads of information on how to feed your family healthily.  Get a sneak preview here.
If you tend to get stuck in a rut I highly recommend these meal plans I subscribe to to get the planning off your plate so you can rest assured your family is getting well balanced grain free meals every night with minimal effort on your part.
I'd love to hear from you! What are your favorite lunch ideas?
The following two tabs change content below.
Sylvie McCracken is a former celebrity assistant in Hollywood turned full time entrepreneur currently living in Ashland, Oregon with her kids. She writes about treating and preventing health conditions with real food and natural remedies, as well as anything else she feels like writing about because she's a rebel like that. ? he also mentors health professionals turned entrepreneurs on her other site, SylvieMcCracken.com
Latest posts by Sylvie McCracken (see all)