I'm really excited about this new paleo cookbook from my friend Arsy Vartanian.  Arsy is the author of the blog Rubies and Radishes and already has one best-selling cookbook under her belt, The Paleo Slow Cooker which I love so much I took it, along with my slow cooker, on my family's road trip over the Christmas break.  Her new cookbook, The Paleo Foodie Cookbook, is no doubt going to be one of my family's go-to resources.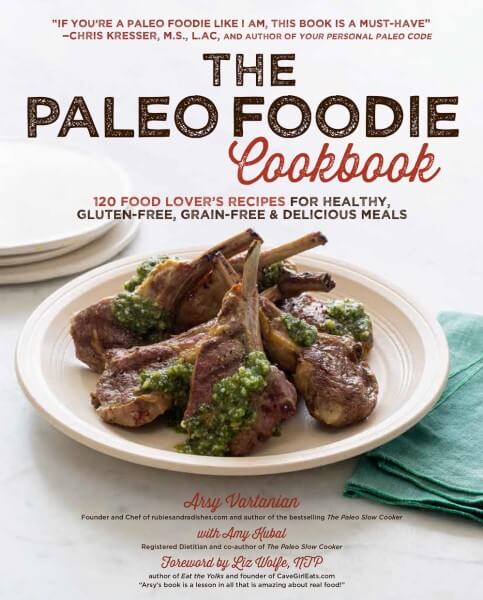 What I love about this book is that it gives you exciting gourmet recipes which aren't going to freak you out with weird impossible-to-find ingredients or complex instructions.
Yes, you can be a foodie without knowing how to cook.
Arsy makes it so easy.  She can take something like short ribs and turn it into a completely new experience with the addition of some sun dried tomatoes, cumin, fennel, and bone broth.  Even some truly foodie delicacies like the roasted bone marrow can be made without any cooking experience, and in just 20 minutes!  Which is good because, I don't know about you, but 20 minutes is about all I've got…
There are a lot of great Middle Eastern inspired recipes in The Paleo Foodie Cookbook, like parsnip hummus, Persian meatballs, kotlet, and dolmas.  But there are also some classics, like "spaghetti" and other ethnic recipes like the chocolate chicken mole.  I was really excited to try this recipe for tabbouleh, which is a Middle Eastern salad which is usually made from bulgur wheat.  I ate tabbouleh all the time while living in Abu Dhabi.  It was served at just about every restaurant and in the deli section at the grocery store.  Those were the days before I ditched gluten.  (Hint: I wasn't feeling so great)  Arsy ditches the wheat by using cauliflower instead.  Genius, easy, and tasty.
To give you an idea of how great and easy Arsy's recipes are, here is a tasty sample she is sharing with us- Thanks, Arsy!
Tabbouleh Salad Recipe
Ingredients:
2 cups packed parsley, chopped
1 cup green onion, chopped
1 cup tomato, seeds removed and diced
1 green bell pepper, diced
1 cup cauliflower, riced
2 tbsp extra-virgin olive oil
2 tbsp fresh lemon juice
½ tsp sea salt
¼ tsp pepper
Directions:  Gently combine all ingredients.  Adjust salt, pepper, and lemon juice to taste.  That's it!
For serious?  Those are my kind of instructions!
Order your copy of The Paleo Foodie Cookbook here.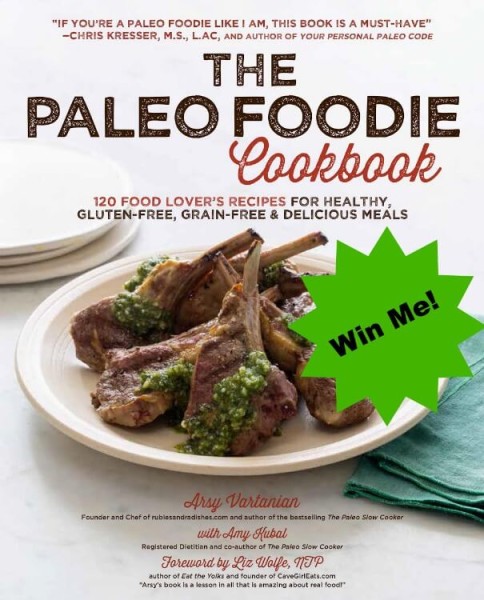 The following two tabs change content below.
Sylvie McCracken is a former celebrity assistant in Hollywood turned full time entrepreneur currently living in Ashland, Oregon with her kids. She writes about treating and preventing health conditions with real food and natural remedies, as well as anything else she feels like writing about because she's a rebel like that. ? he also mentors health professionals turned entrepreneurs on her other site, SylvieMcCracken.com
Latest posts by Sylvie McCracken (see all)