If you haven't read Elizabeth Walling's book, The Nourished Metabolism let me give you a little glimpse as to what you've been missing: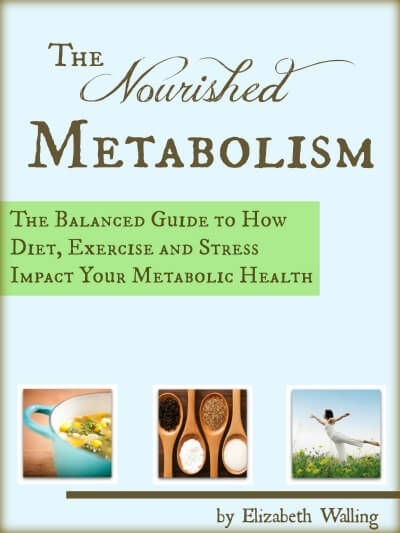 Click here to visit The Nourished Life.
Would you be shocked if I told you that although you may be stuggling to lose weight you might actually be starving, robbing your body of the nutrients it craves and needs? Are you exhausted, moody and suffering from PMS symptoms for half the month?
That was me, and the worst part? I'm talking about my late teens and early 20s!!   If you've been following my blog for a bit you may have read about my journey to health so far.
I feel like I could have written this book, well the part about the symptoms anyway!
See, the thing is, back when I was feeling like crap each and every day, I compared myself to others that were feeling even worse and thought "it's not that bad" or "its normal".
JUST BECAUSE ITS COMMON, DOES NOT MEAN ITS NORMAL!
The difference between a Nourished Metabolism and a Stressed one: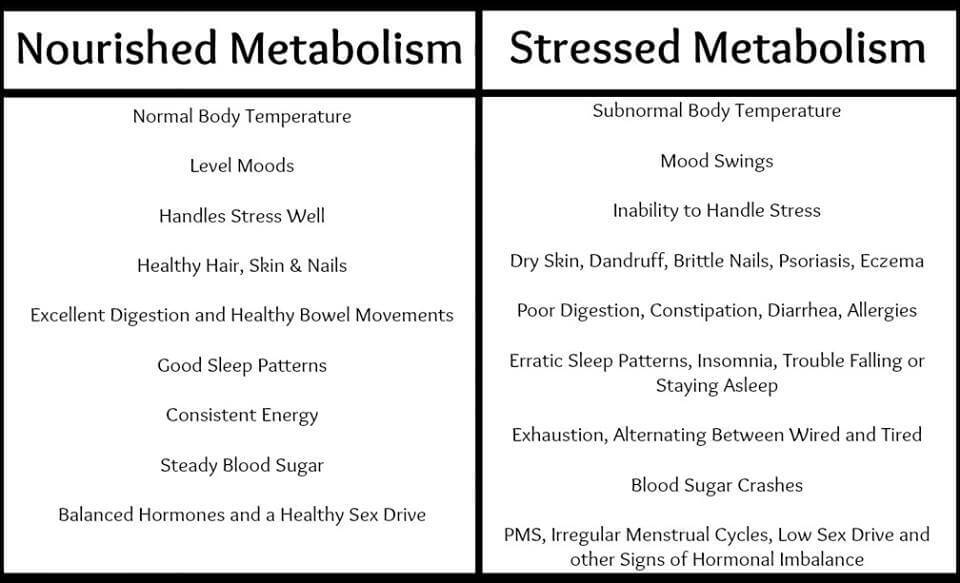 I've written before about my anti dogmatic view of Paleo.  The bottom line is that NOURISHING yourself, giving your body the RAW MATERIALS so that it can not only survive but actually thrive is what its all about.  And if you're like me and have major repairs to make after years of assaulting your body with foodstuff instead of food then nourishment takes on a whole new meaning.
Chapter 2 of The Nourished Metabolism could pretty much feature me as a case study.  My doctor once told me (early on into my paleo lifestyle) that it didn't matter what food I ate or didn't eat as long as I kept the stress levels through the roof. His point was not that diet is irrelevant but that sometimes stress is an even more significant weapon, especially when its chronic.
Elizabeth advises to "ditch the diets for good" and nourish your body instead.  I couldn't agree more. Other than the occassional sugar detox, I no longer subject myself to dieting like I did for decades.  I focus on health.  Excess weight is often just a symptom of poor health.  In my case as soon as I shifted the focus to health, my weight started coming off, almost by accident!
Elizabeth talks about healing the gut by avoiding the substances that irritate it (hint: they are likely in your fridge and pantry as we speak!) and eating foods that soothe and repair it.
Please note this is not a "paleo" book and therefore does include a couple paragraphs on the difference between whole grains and white rice for instance, which I have found very useful when explaining to friends and family why I'm ok with eating white rice when I go out to sushi once a month.
At the end of the day it is an individual journey and you will have to decide what foods are right for your body at each stage of your journey.
A peak into the table of contents: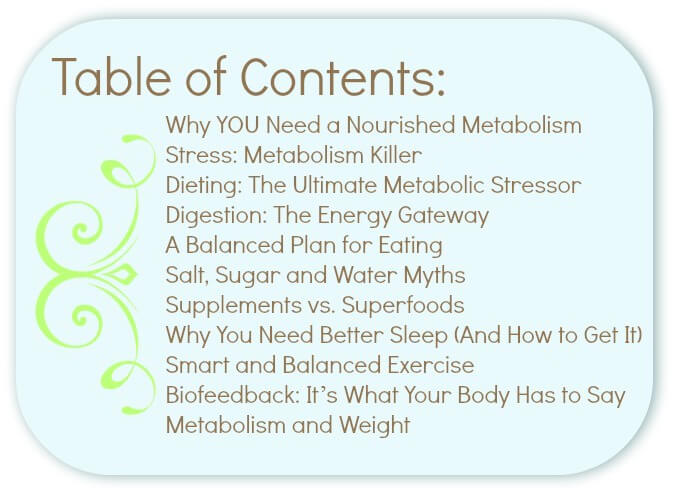 Click here to visit The Nourished Life.
Whether you're just getting started on your real food journey or you've been at it for a while but feel like you could use a little help in regards to food, stress, sleep or exercise, this book will help you take your health to the next level.
Have you read The Nourished Metabolism?  What topic helped you the most? Please comment below!
The following two tabs change content below.
Sylvie McCracken is a former celebrity assistant in Hollywood turned full time entrepreneur currently living in Ashland, Oregon with her kids. She writes about treating and preventing health conditions with real food and natural remedies, as well as anything else she feels like writing about because she's a rebel like that. ? he also mentors health professionals turned entrepreneurs on her other site, SylvieMcCracken.com
Latest posts by Sylvie McCracken (see all)