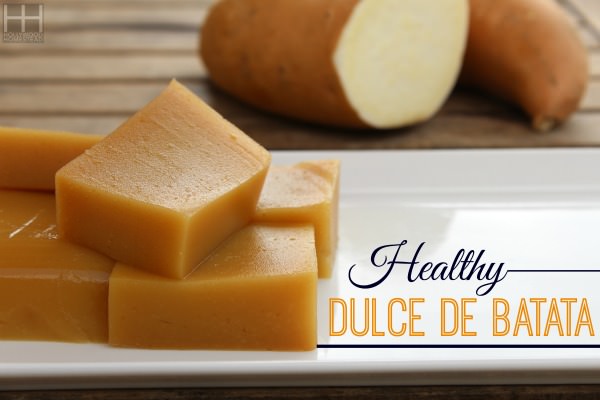 What is Dulce De Batata?
Dulce De Batata is a traditional South American dessert made from sweet potatoes (batatas).  It is like a sweet potato jelly but harder (you can slice it) and is commonly eaten alongside a slice of cheese.  In Argentina, where I grew up, dulce de batata is offered at most restaurants and is common in every home.
Of course, the traditional version is made with less than quality ingredients and a hefty dose of preservatives so I had no choice but to health-ify it a bit.
And the fact that I could include a hefty dose of gelatin in it makes me giddy since you all know I'm gelatin obsessed. 
Without further ado, here is the recipe!  If you try it, please let me know what you think in the comments below! 🙂 I love hearing from you guys.
Dulce De Batata
Ingredients:
Directions:
Peel and boil the sweet potatoes until soft.
Strain the potatoes but keep the water.
Mash the sweet potatoes in the pot and add the 2 1/2 cups of water back in.
Add the grade B organic maple syrup.
Mix with an immersion blender.
Add the gelatin and again mix with the immersion blender.
Pour into a 9×9 pan and let cool on counter.
Place in fridge for 2 hours.
Serve and enjoy!
What is your favorite dessert?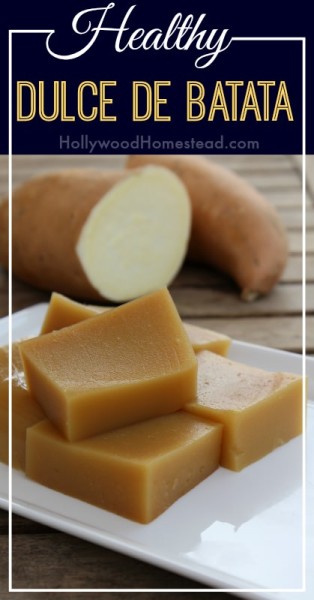 The following two tabs change content below.
Sylvie McCracken is a former celebrity assistant in Hollywood turned full time entrepreneur currently living in Ashland, Oregon with her kids. She writes about treating and preventing health conditions with real food and natural remedies, as well as anything else she feels like writing about because she's a rebel like that. ? he also mentors health professionals turned entrepreneurs on her other site, SylvieMcCracken.com
Latest posts by Sylvie McCracken (see all)