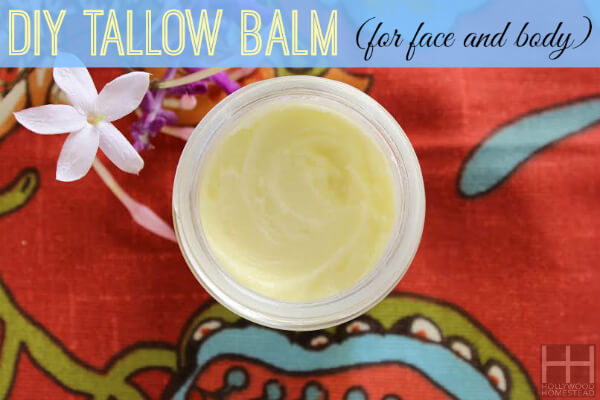 Scar repair, acne and just plain moisturizing…. These are some of the amazing benefits of tallow balm.  It's one of the many crazy things I do these days with my very minimalist skincare routine.  Since reading The Skintervention Guide over a year ago, my daily routine is as simple as 1, 2, 3…
Oil cleansing with either coconut oil or jojoba oil
Gently dab a diluted apple cider vinegar toner
Moisturize with just the tiniest bit of tallow balm.
Tallow balm has been great for scar repair as well.  We've used it on my daughter's large scar after her scoliosis surgery (spinal fusion) and seen great results.
It keeps surprisingly well for several months in the cupboard and the smell, especially when combined with these essential oils is really very minimal since you're using such a tiny amount.
You can purchase tallow balm of course- just make sure it's from quality pastured cows. We recently purchased a whole cow and learned to make tallow from that lovely delicious and healthy fat.  (Learn how to render tallow here)
DIY Tallow Balm
Ingredients:
Directions:
Heat and mix ingredients with a stick blender.
Pour into an appropriate container.
Let cool.
Enjoy!
Looking for more recipes to ditch the chemicals in your beauty products?  Check out Mommypotamus's book with over 50 DIY beauty recipes. You can find it here.
What is your favorite skin care product?
The following two tabs change content below.
Sylvie McCracken is a former celebrity assistant in Hollywood turned full time entrepreneur currently living in Ashland, Oregon with her kids. She writes about treating and preventing health conditions with real food and natural remedies, as well as anything else she feels like writing about because she's a rebel like that. ? he also mentors health professionals turned entrepreneurs on her other site, SylvieMcCracken.com
Latest posts by Sylvie McCracken (see all)