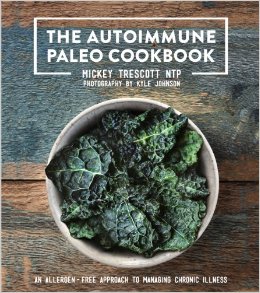 Hooray!  The Autoimmune Paleo Cookbook by Mickey Trescott is finally available in hardback!  What makes this cookbook so special?  Well, not only is it packed full of over 110 fantastic recipes which are 100% paleo, the recipes also adhere to the autoimmune protocol (AIP).  That means no eggs, no nuts, no nightshades and no sneaky seed-based spices in addition to no grains and legumes of course.  But trust me, this isn't a cookbook which will make you feel like you are on a "diet."  These are recipes you will want to have on hand even if you aren't doing AIP.  The fact that these recipes heal your gut is just a nice bonus.
If you've been eating paleo for a while and still have some persisting symptoms you can't quite figure out perhaps a 30 day autoimmune protocol will help you figure out if you're reacting to a few foods.  Mickey explains how to reintroduce foods after 30 days so you can figure out which foods are triggering symptoms for you.
What is the Paleo Autoimmune Protocol?
Approximately 50 million people in the US alone suffer from autoimmune diseases, and the numbers are only expected to rise.  Modern medicine has been horrendously ineffective in dealing with autoimmune diseases and generally recommends a slew of medicines and pills rather than anything to treat the actual cause of the problem.  What is the cause?  In most cases, it all comes down to your gut. If your gut becomes damaged and inflamed, then particles of undigested food can pass into your bloodstream.  Your immune system attacks these particles but you end up with food sensitivities.  The scary thing is that these undigested food particles often resemble parts of your own body.  In confusion, your immune system can end up attacking itself, which is what happens in the case of autoimmune diseases.
People with food sensitivities, leaky gut syndrome, or full-blown autoimmune diseases can heal their gut (and reduce or reverse their symptoms) by sticking to a Paleo Autoimmune Protocol diet with a focus on nutrient density.
On AIP, in addition to the foods we eliminate on a paleo diet, you will also need to temporarily remove these foods from your diet for at least 30 days and then reintroduce to see if your symptoms reoccur:
Eggs
Nightshades (veggies and spices)
Dairy
Nuts and seeds
Switching to a paleo diet seems like a big enough challenge for people coming off of the Standard American Diet.  So, I can understand how overwhelming the AIP diet seems.  That is what is so beautiful about Mickey's cookbook.  The Autoimmune Paleo Cookbook has so many recipes, and they are suited for pretty much any situation in your life.  Quick meals for a busy weeknight?  Check.  Gourmet-style meals for a fancy dinner party?  Check.  Nutritious meals that even your kids will like?  Check.
I'm a girl who needs a treat every once in a while, so I was really excited to try all of the delicious AIP dessert recipes in the book, like the cinnamon ginger baked pears which are soooo easy to make.
Along with the 110+ recipes, The Autoimmune Paleo Cookbook also has two different 4-week meal plans complete with shopping lists.  It doesn't get any easier than that!  Well, actually, it does because Mickey also gives you lots of useful tips for making AIP go more smoothly.  Did I mention that Mickey is a certified Nutritional Therapy Practitioner and personal chef?  So, you are getting advice from a true pro.  Mickey has personally helped me troubleshoot some health issues in the past and her insight is something I can personally vouch for. Mickey is also battling two autoimmune diseases (Celiac and Hashimotos Thyroiditis) so she knows exactly how important the autoimmune protocol is for healing.
The Autoimmune Paleo Cookbook is available in hardcover.  There is also an eBook version, but the hardcover is more comprehensive and has more recipes than the eBook.  You can buy the Hardcover here or buy the eBook here.
To give you an idea of how great this cookbook is, here is a tasty sample she was kind enough to let me share with you!
Garlic Mayo Recipe (Paleo, AIP)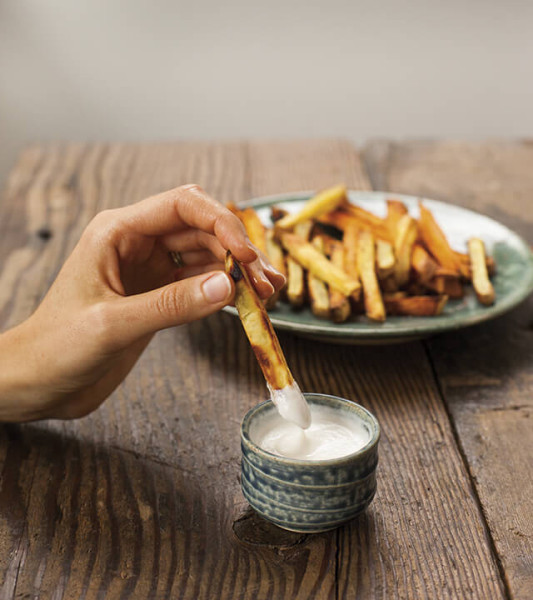 Ingredients:
½ cup coconut concentrate (also known as coconut manna or coconut butter. You can buy it here and Mickey also includes a recipe in her book for how to make it)
½ cup filtered water, warm
¼ cup extra-virgin olive oil
3 to 4 cloves garlic
¼ teaspoons salt
Instructions:
1. Place all of the ingredients in a blender and blend on high for a minute or two, until a thick sauce forms (when freshly made, it should resemble the consistency of conventional mayonnaise).
2. If the sauce is too thick, thin with water until the desired consistency is reached.
*Note: In order to measure the coconut concentrate, it is best to soften it in a warm water bath before use as it is solid at room temperature.
Storage: Keeps well in the refrigerator, but hardens.  Let come to room temperature or warm to soften before serving.
See the cookbook for serving suggestions!


Get your copy of The Autoimmune Paleo Cookbook 
here.
The following two tabs change content below.
Sylvie McCracken is a former celebrity assistant in Hollywood turned full time entrepreneur currently living in Ashland, Oregon with her kids. She writes about treating and preventing health conditions with real food and natural remedies, as well as anything else she feels like writing about because she's a rebel like that. ? he also mentors health professionals turned entrepreneurs on her other site, SylvieMcCracken.com
Latest posts by Sylvie McCracken (see all)