Today I'm super excited to bring you a guest post by Craig Fear… welcome Craig!
Note from Sylvie: I've known Craig for over 4 years and I'm proud to call him not just a colleague and client but also a friend. He's an incredibly talented NTP who has been researching and writing about gut health (and pesky little things like heartburn) for years. So honored to have him share this with you today…  Enjoy!
I'm going to guess Thai cuisine isn't something you'd think of that could help to promote good gut health. Most people's impression of Thai food comes from Thai restaurants. Delicious? Of course! However, fiery hot chile dishes, fried rices and ultra-sweet and rich coconut curries are probably not the best foods to help chronic digestive issues.
But many Thai soups are another story.  
Large cauldrons of simmering broths and soups are an everyday part of the vibrant food markets, cafes and street food culture all throughout Thailand. There are literally hundreds of different types of traditional soups with many different regional variations and styles.
And many of them can help with things like IBS, heartburn and various forms of gut inflammation. The Thai people know this well.
Unfortunately, very few of Thailand's incredible diversity of simple, healing soups ever make it to western Thai restaurants. And contrary to popular belief, not all Thai soups (or Thai cuisine) are spicy. Many soups are quite mild but still packed with the quintessential flavors of southeast Asia.
And that's why I wrote The Thai Soup Secret . As a Nutritional Therapist who works with clients with gut issues, I realized in my travels in Thailand, that so many of the traditional soups could help a lot of people.  
Let's explore 4 reasons why this is.
Many Thai soups are broth-based
When most people think of Thai soups they think of coconut curries. Again, this is the impression most people get from Thai restaurants. But they're not really soups. They're more coconut milk-based stews. But Thailand also has hundreds of simple, broth-based soups. Tom yum, a simple hot and sour soup, would be the best known example in the West.
As you may know from following Sylvie's blog, bone broths are fantastic for nourishing and healing the gut lining. They contain many easy-to-digest nutrients with anti-inflammatory properties such as calcium, magnesium and the amino acids, proline, glycine and glutamine. But there's something about Thai broths that are a little different than many western-style broths. And this can be especially helpful for many digestive issues.
Thai broths are simmered for very short periods.
This can be helpful for some several reasons. Practically speaking,  when you make Thai soups, you don't have to wait for hours on end for the broth to cook first. In western circles, we typically make a broth first and then make the soups second. But many Thai soups are made with bone-in cuts of meat that create both the broth and the soup at the same time.
For example, tom saap, a simple pork ribs hot and sour soup, is simply made by simmering pork ribs in water with Thai herbs for about an hour. When it's done, you've got a nice lightly flavored pork broth with perfectly cooked pork ribs. It's then flavored with additional seasonings like lime juice and fish sauce. Like this: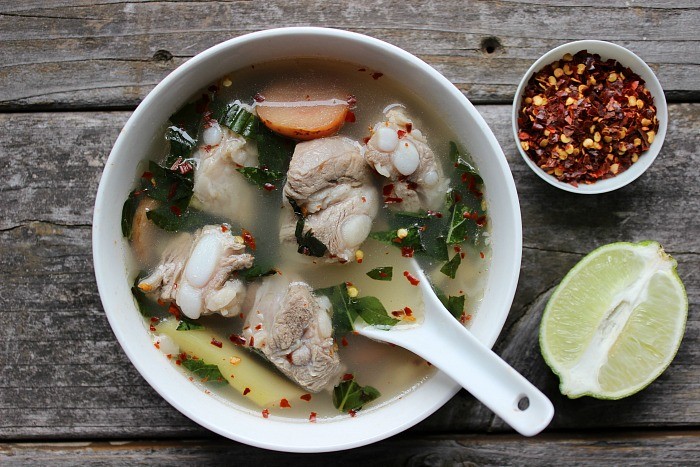 We often don't make soups in the west with bone-in cuts of meat but this is very common throughout Asia. You can easily make soups like these in an hour or less. And if you make a large portion, you'll have plenty of leftovers for the rest of the week.
Beyond the simplicity, shorter cooked broths tend to cause less digestive reactions.  As wonderful as bone broth is to help quell digestive inflammation, sometimes longer cooked broths, can cause some reactions.
For example, those with leaky gut can sometimes be sensitive to the naturally occurring glutamates in longer cooked broths (source). Those with histamine sensitivities can also have reactions as longer cooked broths are higher in histamines than shorter cooked broths (source).  And as Sylvie points out in The SIBO Solution, longer cooked broths which include bones with cartilage can be high in polysaccharides (a carbohydrate which contains long chains of sugar molecules) which may cause reactions for those with IBS and SIBO.
Please understand that not everyone reacts to longer cooked broths but it's just something to be aware of.
But short-cooked broths rarely present any issues. They may not be as nutrient-dense as a longer cooked broth, but the beauty of broth-based soups is that you can easily add other ingredients to make up for that.
And that's the second reason Thai soups are good for your gut.
Many Thai soups contain 3 potent (and delicious) gut-healing herbs and roots
These are lemongrass, galangal and kaffir lime leaves. Lemongrass and kaffir lime leaves are highly fragrant herbs and galangal is a highly pungent root. As they simmer in broth, they release their nutrients and phytochemicals, diffusing not just their health benefits but also their oils, aromas and wonderful flavors which make them so enticing to the nose and tongue. They're also highly valued by the Thai people for their many digestive health benefits.
Many of these benefits aren't just anecdotal either. Scientific studies have shown lemongrass is effective for fighting stomach infections including H. pylori (source), has potent antimicrobial effects (source), has potent antifungal effects and can help fight Candida (source).
Multiple clinical scientific studies also confirm galangal and kaffir lime leaves' anti-microbial and anti-fugnal effects (source1), (source2) , (source3).
Could you imagine if your doctor said to go home and make yourself a bowl of tom yum, Thailand's most famous soup, which contains lemongrass, galangal and kaffir lime leaves?
Before the rise of the medical and pharmaceutical industries cultures around the world looked first to to the healing properties of local herbs, spices, wild plants, roots, trees and fruits. Today, modern herbalists, acupuncturists, Ayurvedic practitioners and naturopaths are just a few types of holistic practitioners today that carry on these traditions. Traditional soups made with homemade broth that are rich in anti-inflammatory herbs are a big part of their healing protocols.
Of course, there's a lot more to medicinal Thai plants than just lemongrass, galangal and kaffir lime leaves. Ginger, turmeric, cilantro, mint, Thai basil and many others all have their own health benefits and are common ingredients in Thai soups.
But it's not just what's in Thai soups that make them good for gut health, it's also what's NOT in them.
Many Thai soups are naturally gluten- and dairy-free.
When I recommend my clients go on gluten and dairy-free diet, I often see that look of terror and fear on their faces. I can see them mentally starting to compute all the staple foods they can no longer have – bread, cereal, milk, pasta, etc.
I then tell them that going gluten and dairy free is like the first time you learned to ride a bike. At first, it's scary but once you get the hang of it, it's a piece of cake.
And of course, I give them resources and recipes that can help them starting getting the hang of it. Simple soup recipes are certainly a part of that.
I'm not saying Thai soups will be a staple in your diet but let's just say that the more resources you have, the better.  And resources that taste delicious that you WANT to make over and over are even better.
Like tom yum soup: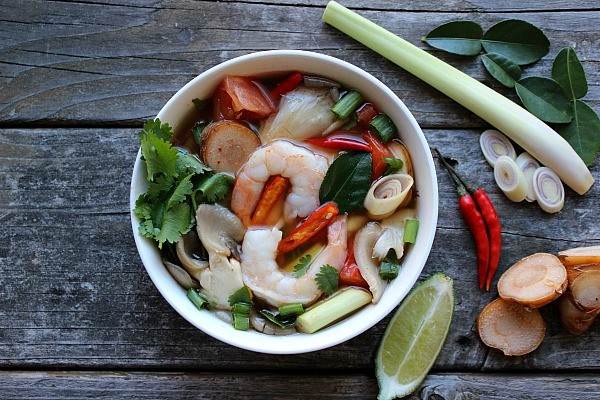 Or this Thai herbal soup, which is rich in many herbs and vegetables: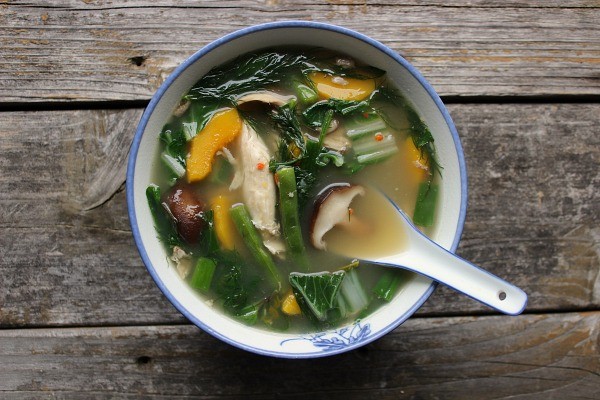 Or one of my favorite quick and easy Thai meals, jok (pronounced joke), which is a broth-based congee: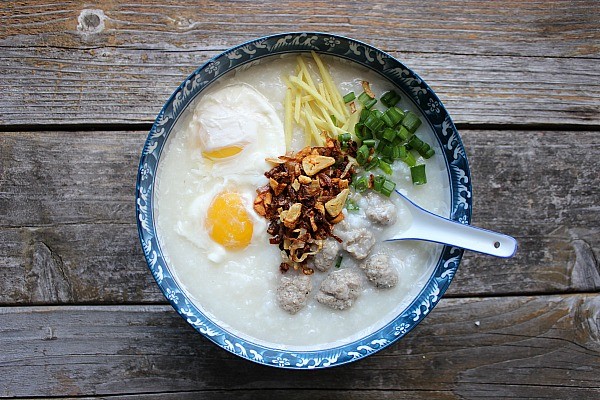 Or this Thai basil pesto soup: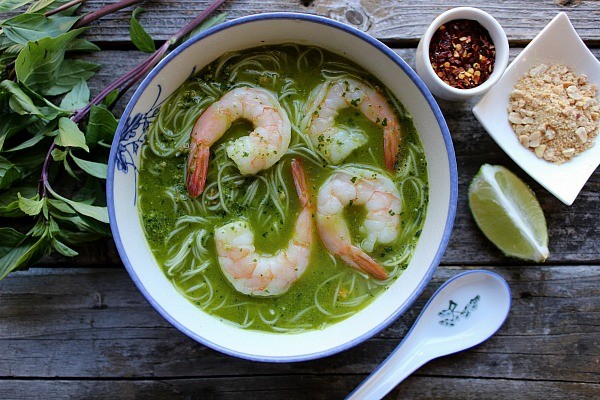 Yes, many Thai soups do include white rice (and white rice noodles), but white rice can actually be a great benefit to digestive issues.
From a western perspective, it's a low FODMAP grain (meaning low in types of carbohydrates that can exacerbate gut issues) and of course, doesn't contain gluten.  From an eastern perspective, white rice is considered a very Yin or cooling food that can help clear excessive heat and thus settle digestive upset. Those from Asian countries know this well. Congee has countless variations throughout Asia and has been used for thousands of years for helping a variety of gut issues.
Thai soups are simple to make.
OK, that might not be a direct benefit to digestive health. But indirectly, simple, time-saving recipes are important whether you're on a specific gut-healing protocol or not.  Because no matter how good something is for you, if it's too complicated with too many hard-to-find ingredients that prevents you from making it, then what's the point? But many Thai soups are ridiculously easy to make.
And that's why The Thai Soup Secret, includes 40 Thai soup recipes not only designed for good gut health but also designed to be easy to make at home.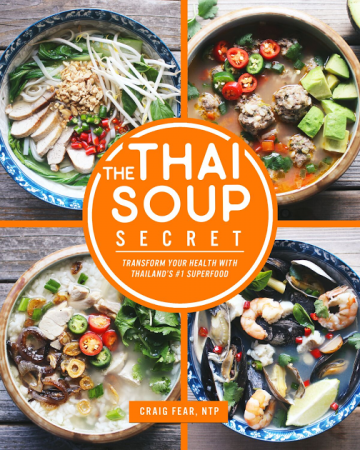 There's probably no better example than tom yum. This is Thailand's most famous soup and the one Thai soup that you will find in most Thai restaurants.
It's so easy to make that I included a video demo for it over on the home page for my book. You can see just how easy it is to make right here.
There's so many Thai soups that follow a similar format to tom yum, that being, simmer the herbs in broth for 5 minutes, add your veggies for a few more minutes, add the seasonings, add your protein and lastly, season it taste. Boom. Done in like 20 minutes.
Whether you're on a gut healing protocol or just have those time-sucking things called a "job" and "kids," having a repertoire of simple soup recipes you enjoy can be so very helpful.
Of course, it helps to like Thai food too!  If a trip to Thailand is not on you agenda anytime soon then this book will be your next best option for discovering the relatively unknown world of Thai broths and soups.
Click here to learn more about the Thai Soup Secret. 
Please note: this book is not specifically designed to treat SIBO, a topic that Sylvie writes a lot about. In fact, many of the recipes wouldn't fit with the strict SIBO protocol that Sylvie recommends in her ebook, The SIBO Solution. It's more of a book that promotes good digestive health from a general perspective. Many recipes do contain classic Thai ingredients like onions, garlic, chiles, rice, fish sauce and soy sauce, though many can be easily modified by excluding those ingredients. That being said, if you're in the midst of a strict SIBO diet, it would be better to wait until you've completed the protocol to dive into the recipes in the Thai Soup Secret.
Craig Fear is a certified Nutritional Therapy Practitioner (NTP) who specializes in helping others with chronic digestive issues.
Before becoming an NTP, Craig traveled extensively in southeast Asia, which kick-started his love of broth and soup. His training as an NTP taught him how real broths and soups help fix digestive issues such as heartburn, GERD, IBS, dysbiosis, leaky gut and more. This eventually inspired him to travel back to Thailand to learn (and eat!) more.
Craig is the found of the blog Fearless Eating where he shares recipes and digestive health tips. He is also the author of The 30-Day Heartburn Solution and Fearless Broths and Soups.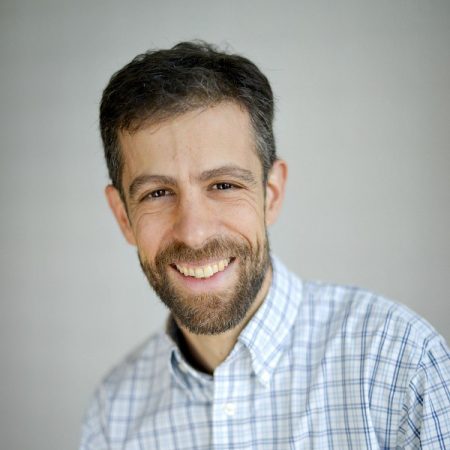 The following two tabs change content below.
Sylvie McCracken is a former celebrity assistant in Hollywood turned full time entrepreneur currently living in Ashland, Oregon with her kids. She writes about treating and preventing health conditions with real food and natural remedies, as well as anything else she feels like writing about because she's a rebel like that. ? he also mentors health professionals turned entrepreneurs on her other site, SylvieMcCracken.com
Latest posts by Sylvie McCracken (see all)